LIVE AUCTION
Master of Ceremonies and Commentator: Stella Fong
Auctioneer: Merton Musser, Musser Brothers Auctioneers
---
1. Heads or Tails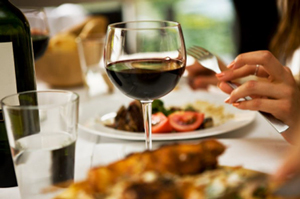 Stand up and have a great time – and possibly win a gourmet dinner for ten (in your home) with perfectly paired wines
Dinner Donated by Executive Chef Jeremy Goldsmith from Gonzaga University and Sodexo
Wines Donated by City VineyardTonight's spectacular chef, Sodexo's Jeremy Goldsmith from Gonzaga University, will carry on the tradition again this year by providing our lucky Heads or Tails winner with an evening of fun and dining. You and nine of your friends will feast on Jeremy's culinary masterpieces and sip fantastic wines specially selected by City Vineyard in the comfort of your home. The perfect dinner party! Please join in the fun — good luck!
(Date determined by availability of Chef Jeremy – normally February-March timeframe)
2. Antica Napa Valley Cabernet Sauvignon, 2013, 12 x 750 ml

Sponsored by Jim & Lin RoscoeWine Advocate calls this "(a) beautifully elegant, stylish Cabernet Sauvignon from the Antinori outpost in Napa Valley" and rates it 94. James Suckling and Wine Enthusiast also rate it 94. This wine is from one of the recent must-have Napa vintages and while it is drinkable now it will evolve for another 15-20 years.
3. Roco RMS Sparkling Brut, 2016, 12 x 750 ml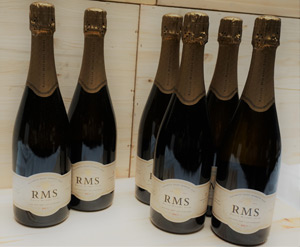 Sponsored by MSU Billings FoundationThis debut from Argyle's founding winemaker is the first sparkling wine to be released under his own Roco label. It is a classic blend of 2/3 Pinot Noir and 1/3 Chardonnay from three Willamette Valley vineyards. Both Wine Spectator and Wine Enthusiast rate it 91 and note that it's a young, tart wine that will be best enjoyed after 2020.
4. Wine Chest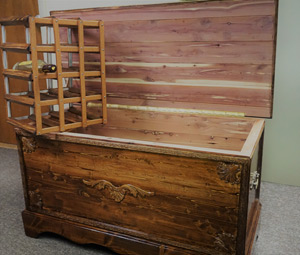 Donated by Jim & Babe Ronquillo, Bill & Mary KennedyCustom designed. Handmade. Beautiful. Craftsman Jim Ronquillo has devoted many hours bringing this wonderful piece to life. This cedar chest is sure to become a family heirloom. A unique feature is the wine rack inside the chest, where you can store the case of wine selected by Bill and Mary Kennedy. A timeless treasure.
5. Penner-Ash: 6 bottles each of Shea Pinot Noir, 2015, and Pas de Nom Pinot Noir, 2015: 12 x 750ml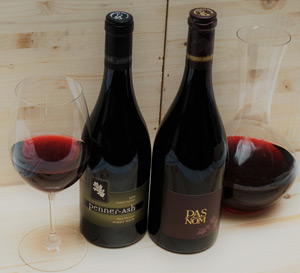 Sponsored by Douglas Kirby, Owner, 24th Street State Liquor StoreThe Shea is a riper style of Willamette Valley Pinot Noir more akin to a California Pinot. It is plump, and round with concentrated fruit. Rated 94 by both James Suckling and Cellar Tracker. The Pas De Nom is a reserve-level wine assembled representing six different vineyards. Rated 94 by Josh Reynolds of Vinous.
6. Private Tour and Tasting Experience in the Napa Valley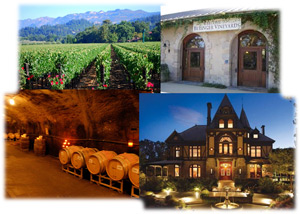 Air to and from San Francisco
Accommodations for two for three nights
Private tour and tastings at Beringer Winery, Sterling Vineyards and Beaulieu Vineyards for two
Donated by Albertsons and Treasury Wine EstatesWine lovers, here is your rare opportunity to experience private tastings at three of Napa Valley's most awarded and historical properties! Beringer Winery is California's longest continuously operating winery, established in 1876; Sterling Vineyards, a Napa Valley icon, was founded in 1964 by Sir Peter Newton; and Beaulieu Vineyards, founded in 1900 by George De Latour, was made famous through wines of "The Maestro" André Tchlistcheff.
You and a companion will enjoy three nights' accommodations and lunch at one of the properties, and exclusive discounts on retail and wine purchases at each winery are included. Enjoy the beautiful vineyards, the quaint surroundings and, of course, the fantastic wines! Relax, sip, savor…
7. Clos du Val Three Graces Cabernet Sauvignon, 2014, 6 x 750 ml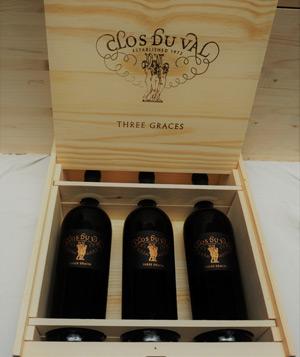 Sponsored by MSU Billings FoundationThe 2014 Three Graces is a new wine from Clos du Val that replaces the former Reserve. Vinous calls it "inky, rich and powerful, [with] superb intensity and resonance." They rate it 95.
8. All I Want for Christmas… an Exclusive Christmas Shopping Excursion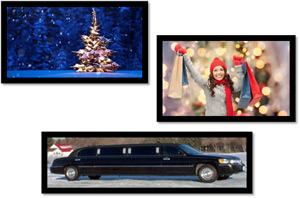 Private Christmas shopping experience for ten at Gainan's Midtown Flowers
Tapas and wine for ten
Limousine ride to and from the party
$50 Gainan's Flowers and Garden Center gift cards for each shopperDates: to be mutually agreed upon between bidder and Gainan's Flowers and Garden Center
Donated by Gainan's Flowers and Garden Center and Total Transportation
Christmas is right around the corner and you and nine of your friends will be ringing in the holidays at an exclusive private shopping experience at the beautiful new Gainan's Midtown Flowers! No crowds, pressure or rushing… take your time and experience the beautiful surroundings and take in the wonderful items available to you.
Your "sleigh" — limousine — will transport you to and from the party so you will not have to worry about driving…or how to get all of your purchases home safely! Enter the winter wonderland and immerse yourselves in holiday cheer. While there, you and your guests will feast on a specially prepared tapas, perfectly paired with delicious wines. At the end of the evening, your Christmas shopping will be finished and your holiday spirit will be energized!
9. Sea Smoke Southing Pinot Noir Vertical: 1 bottle each, 2010, 2011, 2012, 2013, and 1 magnum of 2013; 4 x 750 ml and 1 x 1.5 liter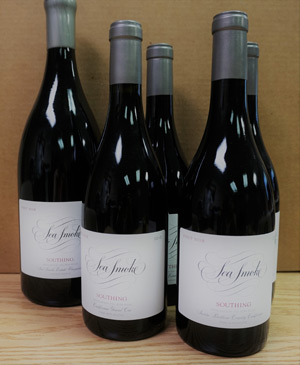 Donated by Don & Ellen Alweis and JasonsNamed after the famed vineyard's south-facing slopes, this cuvée is expertly crafted and quite complex. Experts say that it was precise and tight at bottling but "will expand beautifully with time," so give it 6-7 years in the bottle. Wine Enthusiast rates the 2010 at 92, and a cellar selection, the 1011, at 93, and a cellar selection, the 2012, at 93, and the 2013 at 94.
10. Luxury Glamping at AutoCamp Russian River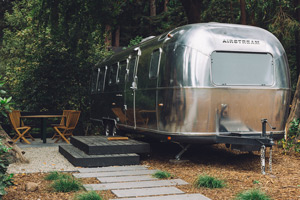 You can plan this fun excursion around your calendar with gift certificates for three nights at the AutoCamp Russian River in California's Sonoma County plus zip line adventure for two from Sonoma Canopy Tours
Transportation not includedDonated by Altana Federal Credit Union
Sponsored by MSU Billings Foundation
Northern California's Sonoma County is an ideal destination for outdoor enthusiasts. Between hiking, water sports on the Russian River, and charming local eateries and boutiques, this eclectic area has all the makings of a perfect getaway. Included with this package is a gift certificate for the Sonoma Canopy Tours redwoods zip-line… Your $100 VISA gift card, provided by Altana Federal Credit Union, can help pay for some of your adventures!
AutoCamp Russian River combines luxury accommodations and classic camping, creating the ultimate outdoor experience for both casual and seasoned campers. Located just 75 miles north of San Francisco in the town of Guerneville, the camp is surrounded by looming lush redwood trees, an easy walk to the Russian River or the hip and funky downtown scene filled with restaurants, bars and shops.
You will stay in a decked-out, classic Airstream trailer outfitted with queen-sized Casper mattresses and soft linens, modern, sleek, spa-inspired bathrooms with walk-in showers and vanity sinks, kitchenettes, and a flat-screen TV with cable and built-in sound system. Relax and enjoy the outdoors on the patio with lounge chairs, campfire pits and grills. Or join other campers inside the beautifully designed clubhouse. This is camping at its most luxurious!
11. Bodega Numanthia Termanthia, 2012, 6 x 750 ml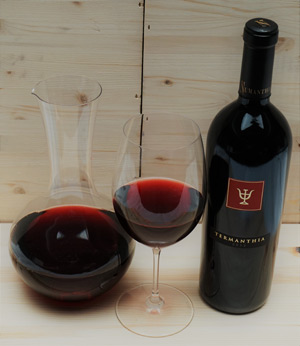 Sponsored by MSU Billings FoundationTermanthia is Numanthia's most ambitious wine; it is a selection from a parcel of 120-year-old vines. Reviewers note that this is a big wine: Wine Spectator calls it, ["dense and polished… muscular yet balanced"] and Suckling says it is "Big and powerful… Complex and layered." Wine Spectator rates it 95 and Suckling 93.
12. Prunotto Vigna Colonnello Barolo Reserva 2008, 12 x 750 ml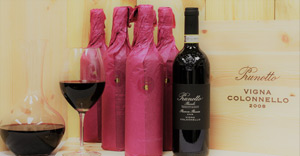 Sponsored by MSU Billings FoundationThe region of Barolo is made up of dozens of little hills that vary greatly when it comes to soil types—and the wines reflect this. Colonnello is a small, four-acre vineyard atop the Bussia vineyard in Barolo, Italy. The vineyard is so remarkable that Prunotto has a new small winery and tasting room dedicated specifically to the wine from this vineyard. The building sits in the middle of the vines, and all of the production — from grape growing to crushing to aging the wine is done within a 150 yard swath of land — the grapes never see a truck. 100% Piedmontese Nebbiolo and rated 95 by the Wine Enthusiast and 93 by Galloni.
13. Late Winter Prairie — Broadview Plain 25 Series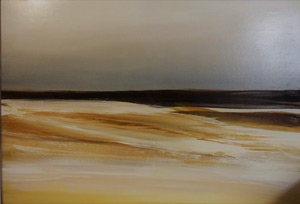 Finished piece measures 70 ½" x 50 ½"
Donated by Neil JussilaNeil Jussila is a professor emeritus and a Vietnam veteran who received a combat infantryman badge. His work, set against the backdrop of the Montana landscape, is about being fully alive in the moment.
14. Let's Go Broncos!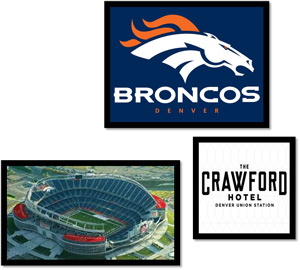 Two nights accommodations for two at the Crawford Hotel in Denver, Denver Broncos tickets for two, passes to the exclusive Stadium Club and parking pass
Dates: September 15 & 16, 2018
Transportation not included
Game: Denver Broncos vs. Oakland Raiders on September 16, 2018Donated by Greg and Eileen McDonald/McDonald Land Development
Sponsored by MSU Billings Foundation
How about those Broncos? You and a friend will have the opportunity to cheer on the Denver Broncos at Sports Authority Field at Mile High as the Broncos take on the Oakland Raiders on September 16, 2018. There is nothing like the roar of the Orange Crush fans and the excitement of being at the stadium on game day!
Along with having great seats, you will be treated to access to the private Stadium Club and a parking pass.
Enjoy two night's accommodations at the Crawford Hotel, one of Denver's newest luxury hotels, located near the iconic Denver Union Station. A mile-high delight!
15. Witchery Winery Oakville Cabernet Sauvignon, 2014, 12 x 750 ml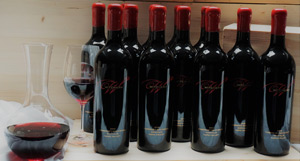 Sponsored by MSU Billings FoundationWine Country Connection writes, "Witchery's spellbinding Oakville Cabernet emerges from a vineyard that sits directly south of Opus One… Now released Witchery's flagship Oakville bottling often sells out in a single day. Conjured from the exceptional 2014 Vintage, this absolutely brilliant wine originates from pristine vineyards widely considered to be at the epicenter for Grand Cru quality Cabernet Sauvignon. This dark beauty will compete with the absolute best Cult Cabernets in your collection." Only 200 cases produced, no reviews available.
16. Time Travel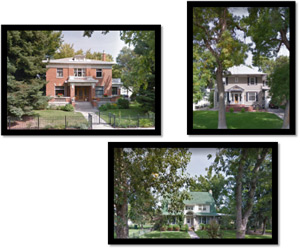 Historical Progressive Dinner for up to 10 people hosted at three locations in one of Billings' Most Beautiful Historical Neighborhoods
Hosted by Donna Groepler, Drs. Larry & Karen Klee, Stephen & Cary Knudson
Chefs: Megan Jesse of Montana Restaurant Association Education Foundation, Carl Kurokawa & Seth Carlson of Juliano's Restaurant
(Date: To be determined mutually with lucky bidder, hosts and chefs. Available August and September, 2018, Sunday or Monday.)Sponsored by MSU Billings Foundation
Take a walk back in time through one of the most beautiful neighborhoods of Billings. Three historical locations, each hosting one course of your progressive dinner prepared by one of Billings' most notable chefs.
Appetizers and champagne will be served at the home of Donna Groepler (137 Clark Avenue). The second child of PB and Mattie Moss, Kula Moss Arnold, made her home at this residence with husband John Bingle Arnold. The Arnolds were married on January 11, 1923, and Kula lived the rest of her life in this home. Kula died of a heart attack at her residence on May 30, 1958, at the age of 66. Many pieces of her furniture, several quilts and needlepoint items which Kula worked on were moved to the Moss Mansion for display.
Dinner course with wine will be served at the home of Drs. Larry & Karen Klee (39 Yellowstone Avenue). Prominent Eastern Montana livestock man Rudolph F.W. Molt had this beautiful two-story brick home built for him and his family by Waldo W. Eames in 1914. The home was occupied by family members for many years and still displays custom accents from the original owners.
Dessert and coffee will be served at the home of Stephen & Cary Knudson (211 Clark Avenue). Built in 1911, this beautiful home's first residents were Roy and Ora Covert, followed by Judge Fillner and his family. The Knudson family are only the fourth family to have lived in this home in the over-100 years since it was built.
17. Rabble Wine Company Red Blend, 2015, 2 x 3 liters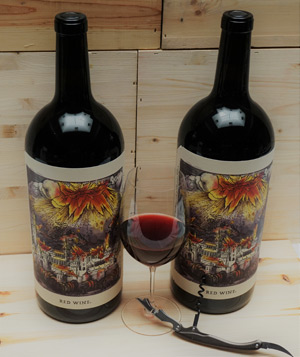 Winemaster Lot:
Rabble Wine Company is a grower-driven Central Coast winery showcasing the best fruit from three estate-farmed vineyards in Paso Robles and Santa Maria. Their wine style exemplifies bright, balanced acidity, all the while showcasing true varietal characteristics. This Force of Nature blend is 67% Merlot, 11% Cabernet, 11% Syrah and 11% Petite Sirah. Large format: Two Double Magnums.
18. Untitled, by Sandra J. Merwin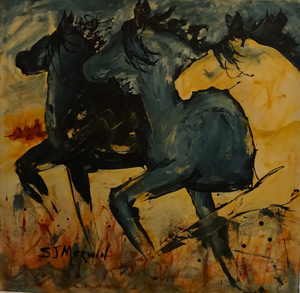 Mixed Media utilizing ink, acrylic paint and oil paint
Finished piece measures 35" x 56"
Donated by Sandra J. MerwinWe are privileged to offer this Sandra Merwin painting. Sandra was a generous supporter of the Wine & Food Festival for many years and truly believed in the power of education. Sadly, Sandra passed away last summer.
This will be the final Sandra Merwin piece of art we will have the honor of auctioning at the MSU Billings Wine & Food Festival. This is your opportunity to own one of her beautiful paintings.
19. Foundation Director's Lot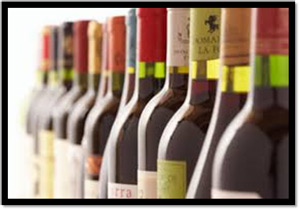 Sponsored by MSU Billings Foundation Board of TrusteesA mixed lot of twenty-four bottles of wine, each selected on behalf of one the Foundation's Trustees. These are elegant premium wines, from around the world, which exemplify good taste and will be sure to complement your wine cellar. The wines are:
2008 Clos du Vol Stags Leap District Cabernet Sauvignon
2015 Joseph Drouhin Chablis 'Vaudesir'
2015 Joseph Drouhin Puligny-Montrachet
2012 Groth Cabernet Sauvignon
2013 Rodney Strong Alexander Crown Cabernet Sauvignon
2013 Rodney Strong Brothers Ridge Cabernet Sauvignon
2015 Justin Isosceles
2006 Moët Grand Vintage Rose Champagne
N/V Pommery Brut Rose Champagne
2006 Caparzo Brunello di Montalcino la Casa
2014 Alpha Omega Napa Cabernet Sauvignon
1997 Nicolas Feuillatte 97 Palmes d'Or
2014 Witchery Spring Mountain Cabernet Sauvignon
2014 Silver Oak Napa Cabernet Sauvignon
2012 Charles Krug Reserve Cabernet Sauvignon
2010 Massolino 'Serralunga d'Alba' Barolo DOCG
2006 Moët Grand Vintage
2012 Beaulieu Vineyards George de Latour Cabernet Sauvignon
2014 Rombauer Diamond Select Cabernet Sauvignon
2012 Beringer Private Reserve Cabernet Sauvignon
2013 Patz & Hall Hyde Vineyard Chardonnay
2014 Ridge Vineyards Estate Chardonnay
2006 Dom Perignon
2000 Château d'Yquem
20. Something to "Crow" about in Woodinville!

Two nights' accommodations at Willows Lodge in Woodinville, Washington
Two tickets for the Chateau Ste. Michelle Summer Concert Series featuring Sheryl Crow on Sunday, July 22, 2018, two winery tasting room visits, $100 VISA gift card
Dates: July 21 & 22, 2018
Transportation not includedDonated by Altana Federal Credit Union
Sponsored by MSU Billings Foundation
Check into the Willows Lodge on July 21, 2018, for two nights in this intimate, award-winning lodge. A landmark of Northwest luxury in the heart of Woodinville wine country, Willows Lodge offers rooms with fireplaces and soaking tubs, award-winning restaurants with wine cellars to match and a world-class spa.
Enjoy all Woodinville has to offer on your first day, July 21; use the $100 VISA gift card provided by Altana Federal Credit Union for shopping, wines or restaurants and then prepare yourself for the Sheryl Crow concert the evening of Sunday, July 22!
Musician, singer and songwriter Sheryl Crow's music incorporates pop, rock, country and blues. She has sold more than 50 million albums worldwide and garnered nine Grammy awards! It won't get any better than a summer night at the incredible Chateau Ste Michelle Winery amphitheater, singing along to "All I Wanna Do" and "If It Makes You Happy." There is no doubt this weekend will make you happy!
While in Woodinville, you will enjoy a VIP tasting at the Bookwalter Tasting Studio and the Dusted Valley Woodinville Tasting Room. Beautiful surroundings, great music and incredible wines… a rockin' good time!
21. Dusted Valley: 2 Bottles Each of Tall Tales Syrah, 2014, BFM, 2013, Petite Sirah, 2014, and V.R. Special Cabernet Sauvignon, 2014, 12 x 750 ml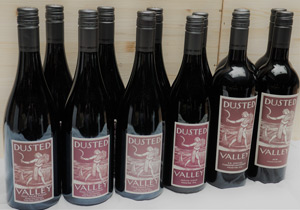 Winemaster Lot:
The Tall Tales is 100% Syrah; BFM is a right-bank style Bordeaux blend, 81% Merlot, 15% Cabernet Franc and 4% Petit Verdot; V.R. Cabernet is 98% Cabernet Sauvignon and 2% Petite Verdot, and the Petite Syrah is 85%. The V.R. Cabernet is Dusted Valley's top Cabernet. All of these wines are highly rated; Wine Advocate, for example, rates them, in order, as 94, 92, and 93. The reviewer sees them as deep, aromatic, concentrated red wines that are also elegant, pure, and supple. This is a case for a serious red wine drinker.
22. Italy on My Mind, by Karen Lynette Johnson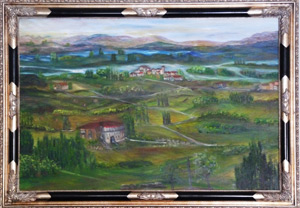 Framed, original oil on canvas
Finished piece measures 24" x 36"
Donated by Karen Lynette JohnsonLocated in the heart of the Mediterranean Sea, Italy is the fifth most visited country in the world. It is no wonder that everywhere you look you see another beautiful hill, river, village or city. Add the breathtaking art and architecture, and you have one of the most beautiful and romantic places in the world. Karen has captured that beauty, and once you gaze at this painting, Italy will always be on your mind!
23. Bella Italia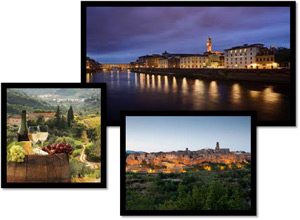 Private transfer from the Florence airport to Hotel Balestri, total of three nights at Hotel Balestri, Florence. Gastronomic walking tour, rental car for drive to Tuscany, three nights at Villa in Tuscany, two cooking classes in Tuscany, winery tours & tastings in Tuscany
Dates: October 15, 2018 – October 21, 2018
Transportation not includedSponsored by MSU Billings Foundation
The wine, the food, the people… Italy is a culinary enthusiast's dream! When you arrive in Florence on October 15, your private transfer will take you to your hotel, Hotel Balestri – centrally located, four-star hotel – where you will enjoy two nights. Wake up in beautiful Florence the next morning and get ready for a three-hour, English-speaking guided gastronomic walking tour. This tour is dedicated to the flavors and savors of Florence, a different way to get to know, through smell and taste, the heart of a city which has embodied, since the Renaissance, the perfect equilibrium between beauty and grandeur, art and power. On your tour, you will visit Bar Scudieri in Piazza S. Giovanni, Mercato Centrale — where you will wander the market and observe, breathe and take in the life of the market before you head for the very heart of the city — then on to Oltrarno, across the Arno River, to visit one of the finest wine houses in Florence. There, you will enjoy local cheeses and meats with a goblet of Chianti produced in the hills around the city…delizioso!
On October 17, you will drive your rental car to the four-star villa in Tuscany for three nights. This lovely Tuscan villa is in a garden setting with parts dating back to the 13th century. The swimming pool is surrounded by an olive grove, and the villa sits just outside the hill town of Montepulciano and will be your base to southern Tuscan destinations such as Pienza, Cortona or Montalcino. The estate produces Vino Nobile di Montepulciano, one of the great Tuscan wines. While in Tuscany, you will take part in two cooking classes on two afternoons and a cooking dinner for an evening. Don't forget to make time for winery tours, too!
You will drive back to Florence on October 20 and enjoy one last night in Italy at Hotel Balestri. Your private transfer will make sure you arrive at the Florence Airport for your return flight home. Arrivederci, Italy!
24. Florence, by Karen Lynette Johnson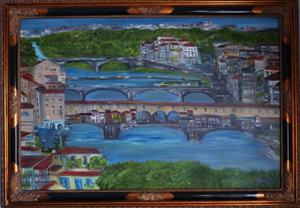 Framed, original oil on canvas
Finished piece measures 24" x 36"
Donated by Karen Lynette JohnsonFlorence… the capital city of the Italian region of Tuscany, attracts millions of tourists each year. Due to its artistic and architectural heritage, Florence has been ranked by Forbes as one of the most beautiful cities of the world. Karen has captured the colors, texture and ambience of Florence.
25. Joseph Drouhin Musigny Grand Cru, 2015, 6 x 750 ml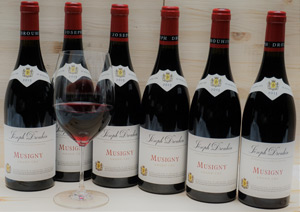 Sponsored by EBMSJohn Gilman says, "The 2015 Musigny from Joseph Drouhin is a stunning young wine in the making." Other reviewers agree that it is one of the outstanding Musignys of the last quarter century but it needs at least five to six years to soften. Gilman, Suckling, Wine Advocate, and Vinous all rate it 97. This wine is the creation of one of the great producers working in one of the greatest vineyards in a legendary Burgundy village.
26. Penfolds Bin 707 Cabernet Sauvignon, 2014, 6 x 750 ml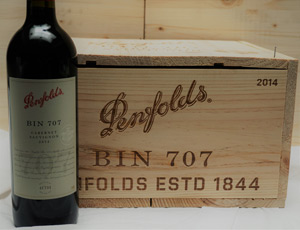 Sponsored by Larry Petersen and Chuck Hingle, Holland & Hart LLP, John Crist, Crist Krogh & Nard LLCPeter Gago, Penfolds' chief winemaker, says, "Bin 707 is a Cabernet Sauvignon reflection of Grange: intensely flavoured fruit; completion of fermentation and maturation in new oak; expressing a Penfolds understanding of multi-vineyard, multi-region fruit sourcing. Critics say, "Full-bodied, mouth-filling, complex, layered — Penfolds' Bin 707 is big in every way." Wine Spectator rates it 95, Falstaff magazine rates it 95, and the Wine Front rates it 95.
27. Tastebuds Gone Rogue!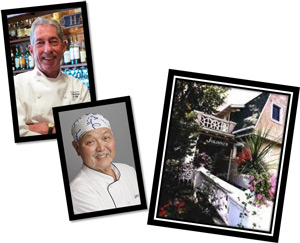 Dinner for eight with wine pairings for each course
Service at Juliano's Restaurant, Billings, Montana
Donated by Executive Chef/Owner Carl Kurokawa of Juliano's Restaurant and Executive Chef David Maplethorpe of the Fortin Culinary Center, formerly of The RexThe Rogue Chefs are at it again! Two of Billings' most popular chefs will again delight eight lucky people with their creative culinary talents. Your evening will begin at Juliano's Restaurant with appetizers. Chef David and Chef Carl will collaborate on a magnificent multi-course dinner including superb wine pairings. This is an experience your tastebuds will never forget – and neither will you!
28. Purple Power!

Accommodations for two at the Radisson Blu Mall of America for two nights, tickets for two to the November 25, 2018 Minnesota Vikings vs Green Bay Packers football game at U.S. Bank Stadium in Minneapolis, $200 VISA gift card
Dates: November 25 & 26, 2018
Transportation not includedDonated by Roger and Darla Huebner
Sponsored by MSU Billings Foundation
Minnesota Vikings and Green Bay Packers — a classic rivalry! You and a friend will have the opportunity to witness this rival game at U.S. Bank Stadium in Minneapolis on Sunday, November 25, 2018. There is nothing better than the excitement of being in the stadium when the teams take the field and battle to get the "W" and bragging rights!
Enjoy two nights at the Radisson Blu Mall of America, an elegant hotel that gives you direct access to Mall of America for the ultimate in style and convenience. You will also have easy access to the Metro Transit Light Rail to explore the area. Have fun spending your $200 VISA gift card while enjoying the Twin Cities.
Super weekend of football, shopping and exploring — Twin Cities here you come!
29. Amor Fati: 12 Bottles each of Syrah, 2013, and Grenache, 2013, 24 x 750 ml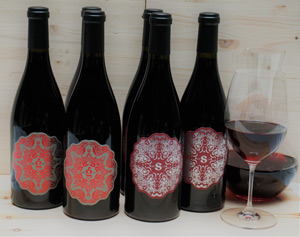 Sponsored by MSU Billings FoundationBoth wines are small productions from a single vineyard in the coastal Santa Maria Valley. A little known but elite AVA within the larger Santa Barbara district, the Santa Maria Valley AVA runs precisely east to west, starting near the coast, creating a growing region perfect for Rhone-style varietals. The wines have a strong cult following due to the elusive and intriguing wine styles and alluring labels based on William Blake's sketches. Both wines rate 89-91.
30. Bear Tail, by Kevin Red Star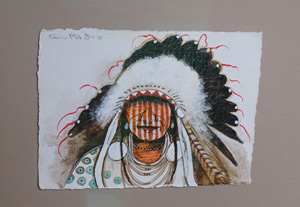 Framed, signed original acrylic
Finished piece measures
16 5/8" x 14 5/8"Donated by Kevin Red Star, Rimrock Art & Frame
Sponsored by MSU Billings Foundation
Acclaimed Montana artist Kevin Red Star is known for his historical details depicting the tribal legacy of his Crow (Apsalooka) Native American heritage. His work can be found in many museum collections nationally and internationally, including the Smithsonian Institution: National Museum of the American Indian, and his work has been featured in special exhibitions around the world, including shows in France, Belgium, Germany, China and Japan.
We are fortunate to have Bear Tail in our auction — a tribute to Kevin Red Star's grandmother's father, a Crow Indian warrior with full eagle war bonnet. Imagine it on the wall in your home or office!
As part of this auction lot, Kevin Red Star is offering a painting event at his Roberts studio for four people! Wine and food are included. Learn from one of Montana's best-known artists — a dream afternoon full of fun and creativity! Note: Event arrangements to be set at least one month in advance.
31. Joseph Drouhin Montrachet Marquis de Laguiche Grand Cru, 2015, 6 x 750 ml

Sponsored by past Wine & Food Festival Chairs Dona Hagen, Dottie Hollatz, Pat Petersen, Donna Sweeney, Susan Schwidde, Billie Ruff, Ben Ripley, Sharon Weatherwax-Ripley, Cara Schaer, Jane Howell, Joe Howell, Stella Fong, Joan McCoy, Kay Berry, Amy Gibler Brown, Julie Linderman, Randy Holbrook, Susan Walton, Michelle DawsonSome vineyards are considered heirloom treasures for their incomparable quality. The Montrachet of Marquis de Laguiche falls in this category. Many consider Montrachet to be the source of the finest white wines, and the de Laguiche vineyard is the largest parcel of the Montrachet vineyard. The Drouhin family is in charge of its cultivation and from its grapes produce elegant (and expensive) wines. The 2015 vintage is up to the usual Drouhin standard: Parker rates it 91-93, and Tanzer rates it 93-95.
32. Sapphire Stunner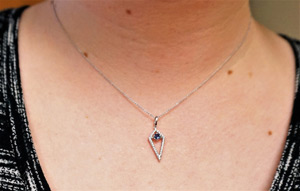 Donated by Greenleaf's Jewelry, Inc.Stunning diamond-and-sapphire necklace with a 14-karat golf, diamond-shaped pendant mounting. The 0.16 carat "AA" quality, cornflower-blue Montana yogo sapphire is surrounded with 31 round brilliant-cut diamonds, totaling approximately 0.15 carat. Accented by 14k white gold, 18-inch, fine chain.
33. Dusted Valley Cult of Ceres Imporcitor Stone Creek Vineyard, 2013, 12 x 750 ml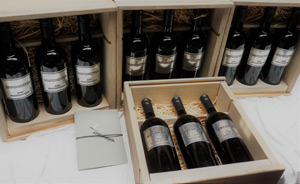 Winemaster Lot:
Ceres is the ancient goddess of agriculture, who embodies the Johnson and Braunel families' deep farming roots and their region's rich agricultural history. The Cult of Ceres collection offers extremely limited-production, vineyard-designate wines with fruit sourced from the best lots of the vineyard's oldest, most promising blocks. Imporcitor refers to Ceres' helper god who ploughs the field "with a wide furrow." The 2013 is the inaugural release of the Imporcitor Cabernet, which is sourced from the incredible Stone Tree Vineyard lying in the heart of the Wahluke Slope and bound by the Columbia River and the Saddle Mountains. The blend is 96% Cabernet Sauvignon, 2% Merlot, and 2% Malbec.
34. Pinot, Pinot, Pinot!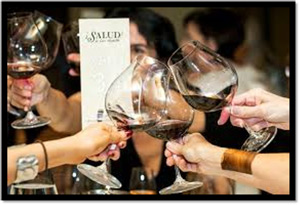 Accommodations for two nights at the Allison Inn in Newburg, Oregon, for two, two tickets to the ¡Salud! Pinot Noir Festival
Dates: November 9 & 10, 2018
Transportation not includedSponsored by MSU Billings Foundation
Oregon's Pinot Noirs are a celebration of flavors! Inspired by the similar characteristics of the Burgundy region in France, Oregon staked its reputation on Pinot Noir, with much success.
This is your opportunity to taste the wonderful Oregon Pinot Noir wines surrounded by beautiful snow-capped mountain ranges, rolling hillsides, working vineyards and agricultural farmlands. You and a guest will enjoy two evenings of festivities at the ¡Salud! Pinot Noir Festival in Newburg, Oregon.
The first evening, November 9, you will attend the Cuvée Tasting and Big Board Auction at the Ponzi Vineyard; you will sample Oregon's most celebrated wineries as they preview their very best 2017 vintage Pinot Noirs. Mingle with the winemakers as you enjoy over 40 of their exclusive, custom-made cuvées.
The next evening, celebrate Oregon winemaking at its best at the ¡Salud! Dinner & Auction Gala at Domaine Serene. Dine with the region's finest winemakers at the year's most exclusive tasting and winemaker dinner party.
Not only will you taste and enjoy the incredible Pinot Noirs of Oregon, you will stay two nights at the luxurious Allison Inn, the premier lodging in the Willamette Valley. A Pinot lover's dream weekend!
35. Lots for Scholarships

Donated by YOU!
Again this year, we are asking you to join in spirited, generous bidding to provide scholarships to MSU Billings students. The scholarships you fund will allow us to assist deserving students and reward those who demonstrate outstanding leadership and academic excellence. Scholarships also allow the University to attract and retain talented students.
36. A Moon of New Leaves, by Ben Stringer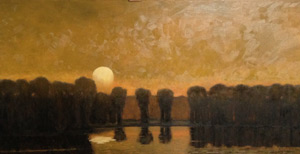 Original oil painting
Finished piece measures 24" x 36"Donated by Ben Stringer
Billings artist Ben Stringer captures the beauty of the moon reflecting over the Yellowstone River. The warm tones are enticing to the eye and capture your sense of adventure.
37. Pinot & Paint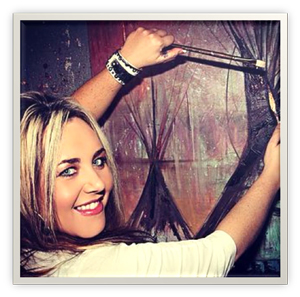 Painting party for up to eight with artist Kira Fercho with wine (painting supplies provided), six bottle of Pinot NoirDonated by Kira Fercho
What a perfect pair – pinot and painting. Now add in MSU Billings alumna and acclaimed artist Kira Fercho as your painting instructor, and you have the recipe for a super fun time! You and up to seven of your friends will spend an afternoon with Kira, and she will instruct you as you create a masterpiece. Encourage everyone's artistic talents by sharing Pinot Noir, included in this package.
38. Massolino Barolo: 6 Bottles Each of Riona Riserva, 2008, and DOCG Margheria, 2011, 12 x 750 ml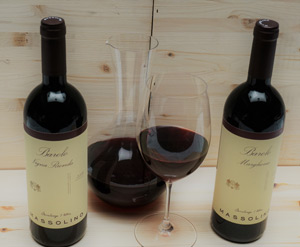 Cellar Selection by Wine EnthusiastSponsored by MSU Billings Foundation
Massolino is one of the great and most recognized Barolo producers, with a rich history of winemaking. The Riserva is their premium wine sourced from the Vigna Rionda. 97 points and a cellar selection from Wine Enthusiast. The Wine Advocate says that the southern and western exposures and dense soils of the Magheria vineyard help to shape an opulent expression of the Nebbiolo grape. Rated 96 by Wine Spectator and 93 by Wine Advocate.
39. All that Jazz!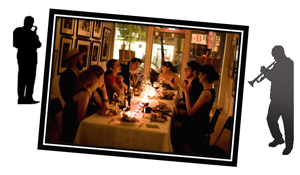 Dinner and Wine for Ten with Jazz Entertainment with service at the home of the lucky bidder
Donated by Executive Chef Jeremy Goldsmith of Sodexo at Gonzaga University in Spokane, Washington, Bill & Mary Kennedy, and MSU Billings Jazz ClubYour toes will be tapping and your tastebuds will be dancing! Chef Jeremy and Chef Marlo will create a spectacular dinner for ten, Bill and Mary will pair accompanying wines perfectly, and the MSU Billings Jazz Club — comprised of musicians from the MSU Billings Music program — will provide the entertainment! What a line-up for food, wine and jazz lovers!
Dinner will be served in the home of the lucky bidder, but don't worry, all the work will be done for you. Sit back…dine, sip wine and enjoy the music.
(Date determined by availability of Chef Jeremy – normally February-March timeframe)
40. Clos Du Val Hirondelle Vineyard Cabernet Sauvignon, 2014, 12 x 750 ml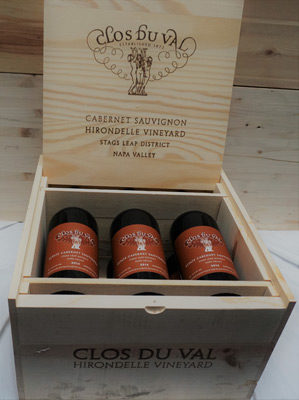 Sponsored by MSU Billings FoundationThis is a small-production, single-vineyard wine sourced from 20-year-old vines in Clos Du Val's iconic Hirondelle Vineyard. Wine Access calls it, "A Stags Leap classic with deep ruby color; smooth, dense and ripe with racy and juicy fruit" and rates it 93. James Suckling rates it 91.
41. Mariners Double-Play!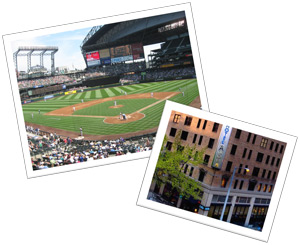 Accommodations for two for three nights at Hotel Ändra in Seattle, Seattle Mariners tickets for two for two games
Dates: September 25, 26 & 27, 2018
Transportation not included
Games: Seattle Mariners vs. Oakland A's – September 26 and Seattle Mariners vs. Texas Rangers – September 27Donated by Paul and Teresa Casey
Sponsored by MSU Billings Foundation
Sweeping views of Seattle's downtown skyline, breathtaking sunsets over Puget Sound, combined with excellent views of the game from all angles, are just a few of the reasons Seattle Mariners home field baseball games are an experience unequalled in Major League Baseball. Here is your chance to see the Mariners take on the Texas Rangers and the Cleveland Indians at Safeco Field in Seattle from box seats on the isle, row 16, behind home plate on the first base side. Can it get any better, baseball fans?
Arrive in Seattle on September 25 and enjoy three nights at Hotel Ändra, in the heart of downtown Seattle and a short walk to the incredible Pike's Street Market.
Enjoy all Seattle has to offer… major-league baseball, delicious cuisine and sightseeing… an entertainment grand slam!
42. Create Your Cellar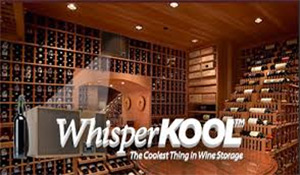 Time-tested WhisperKOOL wine cellar humidifier, wine rack, case of select wines
Donated by Anonymous donors, City Vineyard
Sponsored by MSU Billings FoundationHave you been talking about creating your own wine cellar… but it just hasn't happened? The time has come! The gently time-tested, interior-installation humidifier will keep your new cellar at the perfect temperature so that every bottle of wine you open will be just right for your ultimate enjoyment. The wine rack will hold your wines at the right angle to ensure against cork shrinkage.
The wines in this lot are a perfect combination to get your collection started and is just the beginning of many bottles of wines that you will enjoy for years to come.
43. Schramsberg J. Schram Brut 2001 (2008 release), 12 x 750 ml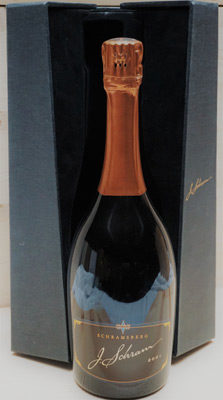 Sponsored by Holiday Station StoresWine Enthusiast says, "Pretty much as gorgeous as California bubbly gets" and rates it 95. Wine Spectator and Connoisseurs' Guide agree, calling it bold, rich, crisp, weighty, and slightly austere at the same time. They rate it 92 and 90, respectively. The wine is 78% Chardonnay and 22% Pinot Noir and is made in the classic Methode Champenoise.
44. Leonetti Cellars Cabernet Sauvignon: 4 bottles, 2007, 2008, 2011, 2012, 4 x 750 ml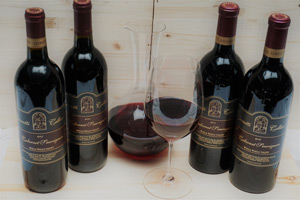 Donated by Margit ThorndalLeonetti Cabs are famous for being intense, complex, and very tight, needing a few years to unwind and show their full potential. All of these wines are exceedingly well regarded; Wine Enthusiast rated the 2007 at 97, the 2008 at 98. The 2011 was rated 95 by Galloni and the 2012 was rated 96 by Parker. These wines are aged and ready.
45. Wonderful Waikiki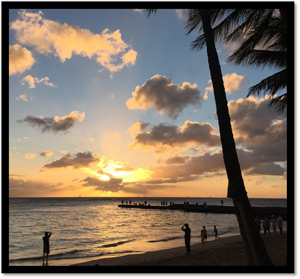 Partial ocean-view accommodations for two at the Outrigger Reef Waikiki Beach Resort for three nights and four days, and roundtrip airline tickets for two on Delta Airlines
Package valid until May 18, 2019, based on availability, blackout dates apply (major holiday period)
Some restrictions applyDonated by Travel Café and Delta Airlines
Bordering the golden sands of Waikiki Beach, Outrigger Reef Waikiki Beach Resort offers a relaxing destination where the blue Pacific and Oahu's island spirit welcome you. This Honolulu hotel is situated at the western edge of the Waikiki resort district at Waikiki Beach Walk® near Fort DeRussy Park. Kapiolani Park, Honolulu Zoo, and the Waikiki Aquarium are less than a mile away. Venture to downtown Honolulu and historic Pearl Harbor. Snorkel the living reef at tranquil Hanauma Bay Nature Preserve and marvel at the wild and pounding winter surf on Oahu's North Shore. Stop by the Outrigger Activities Center for island tours, catamaran eco-sails and snorkel-and-dive adventures. Aloha!
46. Brewer-Clifton: 6 Bottles each of 3D Vineyard Pinot Noir, 2014, and Machado Vineyard Pinot Noir, 2015, 12 x 750 ml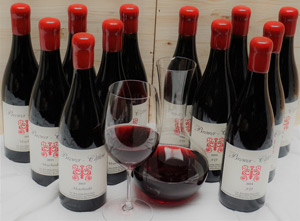 Sponsored by MSU Billings FoundationThe 3D is comprised of 100% estate pinot noir from Brewer-Clifton's 3D vineyard. Robert Parker's Wine Advocate calls it "one of the more elegant, perfumed releases from this team," and rates it 94. Wine Spectator rates it 91. The Machado is comprised of 100% estate pinot noir from Brewer-Clifton's Machado vineyard. Wine Advocate says, "It needs 2-3 years of cellaring and will drink beautifully over the following decade." They rate it 92. Wine Spectator rates it 90.
47. J Lohr: 6 bottles each of Cuvee Pau, 2013, Cuvee St. E, 2013, and Cuvee Pom 2013, 18 x 750 ml

Sponsored by Don & Marilyn FlobergJ. Lohr makes three Bordeaux-like Cuvées, "PAU," "St. E" and "POM," inspired by the blend typical for those appellations, Pauillac, St. Emilion and Pomerol. The Pauillac-inspired Pau is, as you might expect, 88% Cabernet Sauvignon, 9% Petit Verdot, 9% Malbec, and.1% Merlot. Pau was rated 95 in Wine Review Online. Pom is Merlot driven — Merlot 84%, Malbec 8%, Cabernet Sauvignon 4%, and Cabernet Franc 4% — while St. E features Cabernet Franc: 63% Cabernet Franc, 25% Cabernet Sauvignon, 8% Merlot, and 4% Malbec. Wine Enthusiast rated St. E 94 and Pom 91.
48. Romantic Mexican Getaway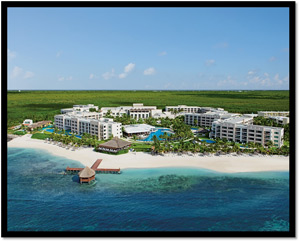 Accommodations for two adults at Secrets Silversands Riviera Cancun, in Cancun, Mexico, for three nights, four days, all inclusive
Based on availability, blackout dates include, but are not limited to, Thanksgiving, Easter, Christmas, New Year's and Presidents' Day. Offer is valid until May 18, 2019.
Some restrictions apply
Transportation not includedDonated by Travel Café
Secrets Resorts & Spas offer adults an extra measure of romance and sensuality in exquisite luxury beachfront settings. Guests immerse themselves in Unlimited-Luxury®, where everything is included. This, plus elegantly appointed rooms and suites with 24-hour concierge and room services, multiple gourmet restaurants and lounges serving top-shelf spirits, elegant amenities and endless day and evening activities, provide the ultimate backdrop for unparalleled pampering, romantic rendezvous and lasting memories for couples and honeymooners.
49. Spring Valley Vineyard: 6 Bottles each of Uriah Red Blend, 2014, and Frederick Red Blend, 2014, 12 x 750 ml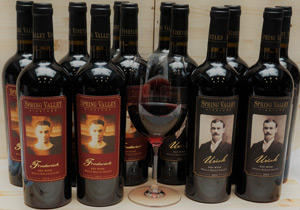 Frederick Red Blend is number 39 on Wine Spectator's list of the top 100 wines
Sponsored by Roc HouseSpring Valley wines are named for the 19th century agricultural pioneers who began what is now the vineyard. Uriah is a blend focused on elegance and finesse; it is 56% Merlot, 38% Cabernet Franc, 4% Petit Verdot, 2% Malbec. Frederick is a blend with a muscular structure; it is 57% Cabernet Sauvignon, 22% Cabernet Franc, 13% Merlot, 5% Petit Verdot, 3% Malbec. Wine Spectator rates Frederick 94 and Uriah 93.
50. Orcas Island Dream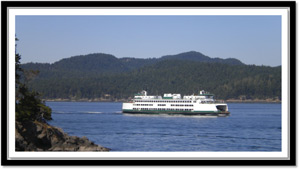 Five-day condominium stay
Accommodations for up to four people
Available September 15, 2018 – June 15, 2019
Transportation not includedDonated by Sue and Eakle Barfield, Altana Federal Credit Union
Dream away on beautiful Orcas Island, the largest of the San Juan Islands, also known as "the emerald isle" and the "gem of the San Juans."
Enjoy five glorious days in a luxurious two-bedroom condominium, just 50 yards from the beach. Orcas Island is a combination of lush forest, pristine valleys, placid lakes and stunning mountains, all wrapped around a beautiful fjord. Spend your time whale watching, sailing, kayaking or golfing. There is something for everyone! Use the $100 VISA gift card, provided by Altana Federal Credit Union, for one of your adventures! Close your eyes and imagine the beautiful sunrises, sunsets, and everything in between.
51. Willakenzie: 6 Bottles each of Emery Pinot Noir, 2014, and Kiana Pinot Noir, 2014, 12 x 750 ml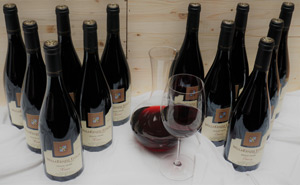 Wine Enthusiast Cellar Selection
Sponsored by Kelly Colt Interior DesignBoth the Emery Pinot and the Kiana Pinot were sourced from the Yamhill-Carlton AVA of the Willamette Valley. The Emery is quite translucent while the Kiana is full-bodied. Kiana is rated 92 by Wine Enthusiast and is a cellar selection. Emery is rated 93 by International Wine Report.
52. Take Home the Store!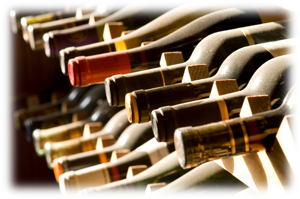 Here is your opportunity to restock your cellar…start a cellar… or maybe you just love wine! This lot is for you! Tonight you can take home one bottle of each of the wines featured in our Wine Store — 60 fantastic bottles of wine to enjoy!
Lot includes two bottles of each of our winemasters' wines.Wines include:
2015 Boomtown Pinot Gris
2015 Boomtown Chardonnay
2015 Boomtown Merlot
2014 Boomtown Syrah
2015 Boomtown Cabernet Sauvignon
2015 Dusted Valley Olsen Vineyard Chardonnay
2011 Dusted Valley BFM Red
2014 Dusted Valley Cabernet Sauvignon
2014 Dusted Valley Stained Tooth Syrah
2014 Dusted Valley Petite Syrah
2012 Dusted Valley Tall Tales Syrah
2016 Roco RMS Sparkling Brut
2015 Chateau Ste. Michelle Canoe Ridge Chardonnay
N/V Ty Ku Sake Platinum
2016 Penfolds Bin 311 Chardonnay
2015 Squealing Pig Sauvignon Blanc
2011 Prunotto Barolo DOCG
2011 Bodega Numanthia
2015 Maal Biutiful Malbec
2013 Garage Wine Company Cabernet Franc Las Higueras
2012 Chateauneuf du Pape Rouge
2016 Miraval Rose Jolie-Pitt and Perrin
2014 Witchery Spring Mountain Cabernet Sauvignon
2013 Rodney Strong Brothers Ridge Cabernet Sauvignon
2015 Shed Horn Cellars Petite Sirah
2015 Rabble Pinot Gris
2015 Rabble Chardonnay
2017 Rabble Rose
2015 Rabble Merlot
2014 Rabble Tempranillo
2014 Rabble Zinfandel
2014 Rabble Red Blend
2014 Rabble Cabernet Sauvignon
2014 Tooth & Nail Fragrant Snare White Blend
2015 Tooth & Nail The Fiend Malbec
2015 Tooth & Nail The Possessor Cabernet Sauvignon
2014 Tooth & Nail The Stand Petite Sirah