Please check back regularly and watch for updates!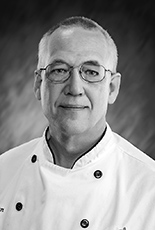 Jim Carlson was born and raised in Minnesota and moved to Montana in the early '80s. Cooking started out being a simple, enjoyable means to an end for Jim. This end was saving for school and doing his part in keeping the economy going. Sometime during his second or third year of college, while working with a French caterer, he realized he received tremendous enjoyment from the service of good food. So he moved around, learning and gleaning from many fine chefs and cooks, from many fine cultural and ethnic backgrounds, and this is what brought him to Montana.
Since settling in Billings, he has worked and managed several restaurants and catering services and is now the Chef at MorningStar of Billings. The joy, satisfaction and creative challenge of preparing and serving fine food is still what drives him today.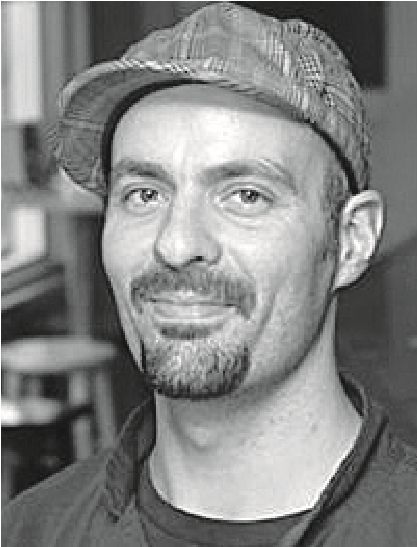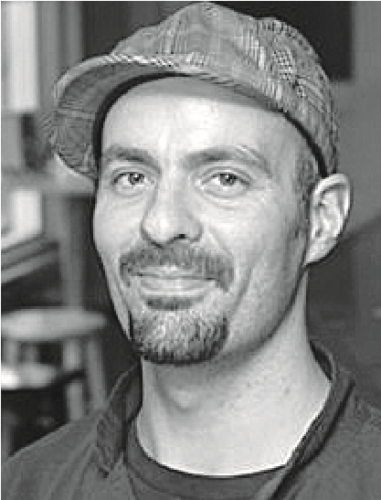 Jason Corbridge is a native Montanan and resident chef of Billings. He has been instrumental in the local foods and scratchcooking culture since 2007. In 2009, he opened and operated Café DeCamp – Billings' first local foods and made-from-scratch based restaurant. Jason also helped start Last Chance Pub & Cider Mill and Parasol. He is currently the executive chef at the Buffalo Block Prime Steakhouse at the Rex.
Jason will always practice a discipline that includes using the best accessible ingredients and creating his own recipes tailored specifically to the environment that they are being served in.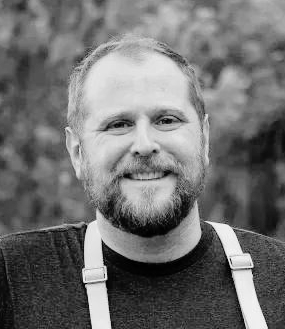 Dirk is a native of Laurel, Montana where, while in high school, he began his restaurant career at his mom's new business venture, the Owl Café. Upon graduation from high school, Dirk moved to Portland, Oregon where he attended the Western Culinary Institute. After living and working in the Portland area for several years, Dirk returned to Montana and took the reins at the Owl Café. While there, he instilled farm to table philosophies, and worked on the civic planning group Laurel Alive and the Laurel Urban Renewal Agency. In 2011, Dirk became the executive chef at the Hilands Golf Club and most recently has added the role as Food and Beverage Director to his responsibilities. Dirk is a member of the Chefs & Cooks of Montana and was named Chef of the Year in 2013.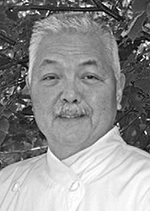 Chef Carl Kurokawa worked in numerous hotels and restaurants on three different islands in his home state of Hawaii before relocating to Montana in 1980. After three years as the Executive Sous Chef at the Billings Sheraton and a year as Manager of the Carriage Inn at Twin Lakes Village in Idaho, he took the position of Executive Chef at Bozeman's Riverside Country Club. In 1987, Chef Carl returned to Billings as Executive Chef of the Radisson Northern Hotel for a year.
The next six years, Chef Kurokawa was Chef at DeVerniero's Ristorante until 1995, when he and two partners purchased Juliano's Restaurant. Chef Carl and Juliano's have received numerous awards, including the DiRoNa Award as one of the distinguished restaurants in America, one of only three establishments in Montana to receive this distinction.
Chef Carl serves on the board of the Chefs and Cooks of Montana and was named "Chef of the Year" three straight years from 1987 to 1989.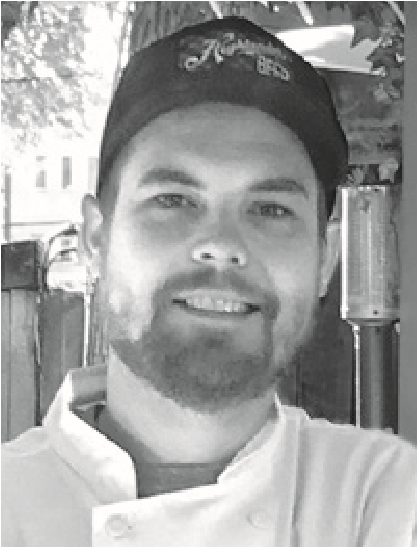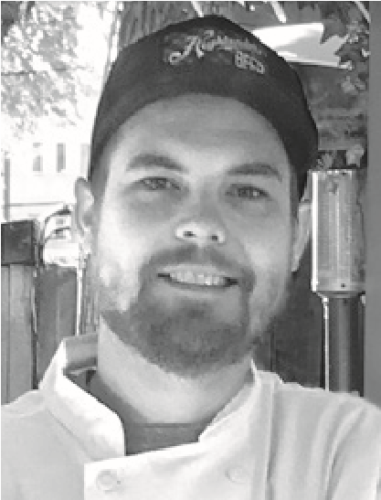 Seth Carlson of Billings, Montana has been in a kitchen his whole life. Whether he was washing dishes for his dad or cooking as the sous chef of a gourmet restaurant, Seth has been working his way through every kitchen job. He began at a young age helping his pops cook Saturday morning breakfast at TC's. Since then, he has attempted other positions such as student and entrepreneur, but has always found his way back into the kitchen. He has been working for Chef Carl Kurokawa as his sous chef for the past 15 years. In between all of his kitchen endeavors, Seth has managed to find the time to start a life with his wife Carlie and their son, Jack.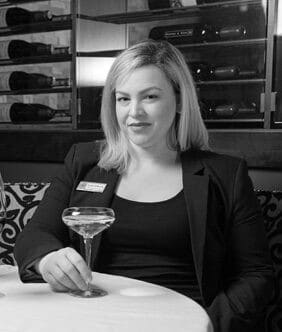 From an early age, Chef Sarah Seltvedt knew exactly what she wanted to do with the rest of her life. Her lifelong passion for cooking and hospitality began in the kitchens of her mother and grandmother, where she developed a love for the art of cooking.
Following her passion, Seltvedt sought professional training at one of the first "Farm-to-Table" culinary schools in the country— Auguste Escoffier School of Culinary Arts located in Boulder, Colo., where she learned the importance of using whole animals, preservation, local products, and sustainable practices. Not only is she skilled in this area, but Seltvedt also went a bit further and completed the Court of Master Sommeliers and Wine & Spirit Education Trust (WSET) for wine education and is currently working towards her Level 3 WSET certificate.
Seltvedt developed her culinary skills under the supervision of some of the finest food experts in the industry including nominees of the James Beard Award and winners of Food & Wine Best New Chefs such as Stewart Woodman, Mark Fischer, Mitch Mayers, and Timothy Fischer. For this purpose, Seltvedt honed her skills by working at several prestigious restaurants including St. Regis in Aspen, Colo., The Breakers Resort in Palm Beach, Fla., and The Ivy Hotel and Loews Hotels in Minneapolis, Minn. Most recently, Seltvedt worked as the Executive Chef at Bigsby's Folly Craft Winery and Cellar Door in Denver, Colo., where she learned the art of pairing wine and food by masterfully combining the two into her culinary style.
Today, Seltvedt calls Billings, Mont., home and is currently the Executive Chef and Food & Beverage Director at the Northern Hotel, where she oversees the operations of Bernie's Diner, TEN Restaurant, and banquet operations. Seltvedt would best describe her cooking style as locally inspired and regionally distinctive. She uses mostly traditional French techniques with a fresh perspective. She brings this culinary influence, wine knowledge, and elevated practices to the food and beverage department while rebuilding the post-pandemic world of hospitality.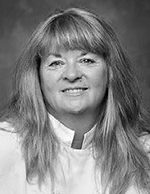 Marcy opened Beyond Basil Catering on a dare in 1994 and since then has strived to build the type of business that fulfills the wishes of her clients. She specializes in custom menus and superb service and enjoys creating dishes using unique foods and fresh herbs and spices, all within the budget of the customer. Marcy was named Chef of the Year in 2007 by the Chefs and Cooks of Montana.
Her love of food has allowed her to follow her passion for ethnic foods. Whether roasting chilies to make mole, toasting and grinding spices for curry powder, making pastas or roasting bones for stock, she continues to explore the world of flavors and to create exciting new dishes for her clients.
Marcy has been fortunate enough to work with some great people in the industry. She has taken classes from Masaharu Morimoto, Ferran Adria, Jose Garces and Rick Bayless. She has had the great pleasure of food styling for Jamie Oliver and has catered for many celebrities and concerts, from Alice Cooper to Elton John.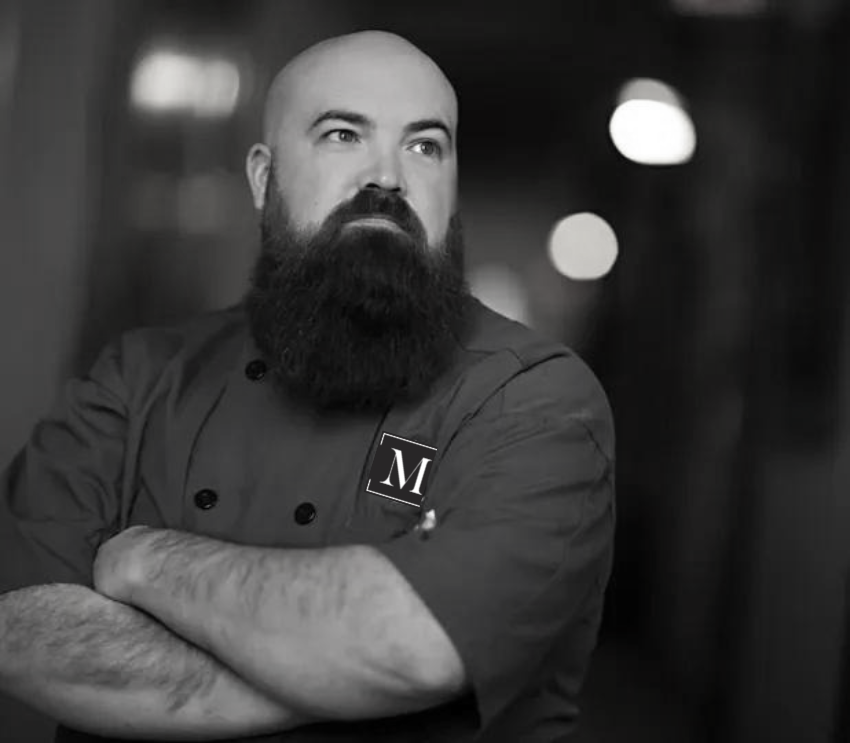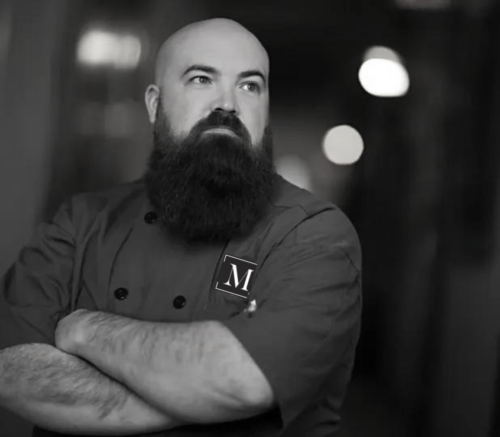 Born and raised in Billings, Chef Jason Marble attended Le Cordon Bleu in Portland, Oregon. In 2020, Jason and his wife Jen, opened The Marble Table serving "elegant comfort food". The Marble Table was a James Beard Awards semi-finalist for Best New Restaurant in 2022. Jason's kitchen tenures include Bistro Enzo, Überbrew, and Last Chance Pub and Cider Mill. He is looking forward to their next adventure – Bearded Bulldog Pub Grub; a take-out only restaurant on Montana Avenue that will also deliver to nearby bars and breweries. Jason resides in Billings with his wife Jen and their four children.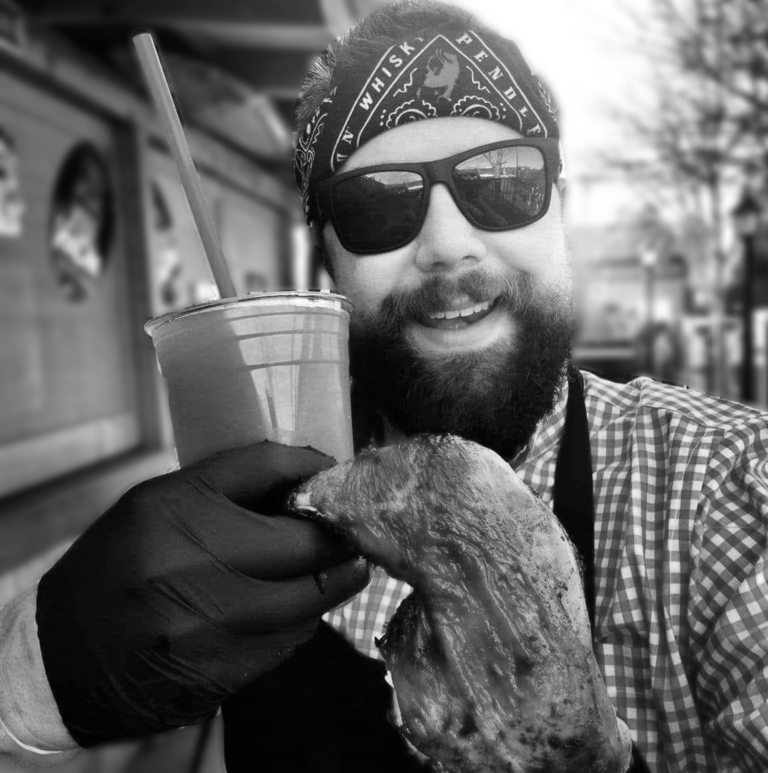 Growing up in Michigan, I have always had a deep appreciation for the great outdoors and her bounties. I have always had a passion for cooking, and using the freshest and most natural ingredients we could find or harvest. After working as a firefighter in Michigan I soul searched around the country, and ended up finding myself in Montana, corporately managing 5 stores for Luckys Market. I decided that the corporate game wasn't for me anymore, and took a risk to follow my dream of cooking. I started my very first restaurant job almost 6 years ago at the High Horse Saloon as a prep cook, and have gotten a taste of success and haven't looked back since. I am now the Executive Chef of the High Horse and all of our catering endeavors. This journey would have never left the ground had it not been for the constant love and support from both my wife Rachel, and Reid and Shawna Pyburn.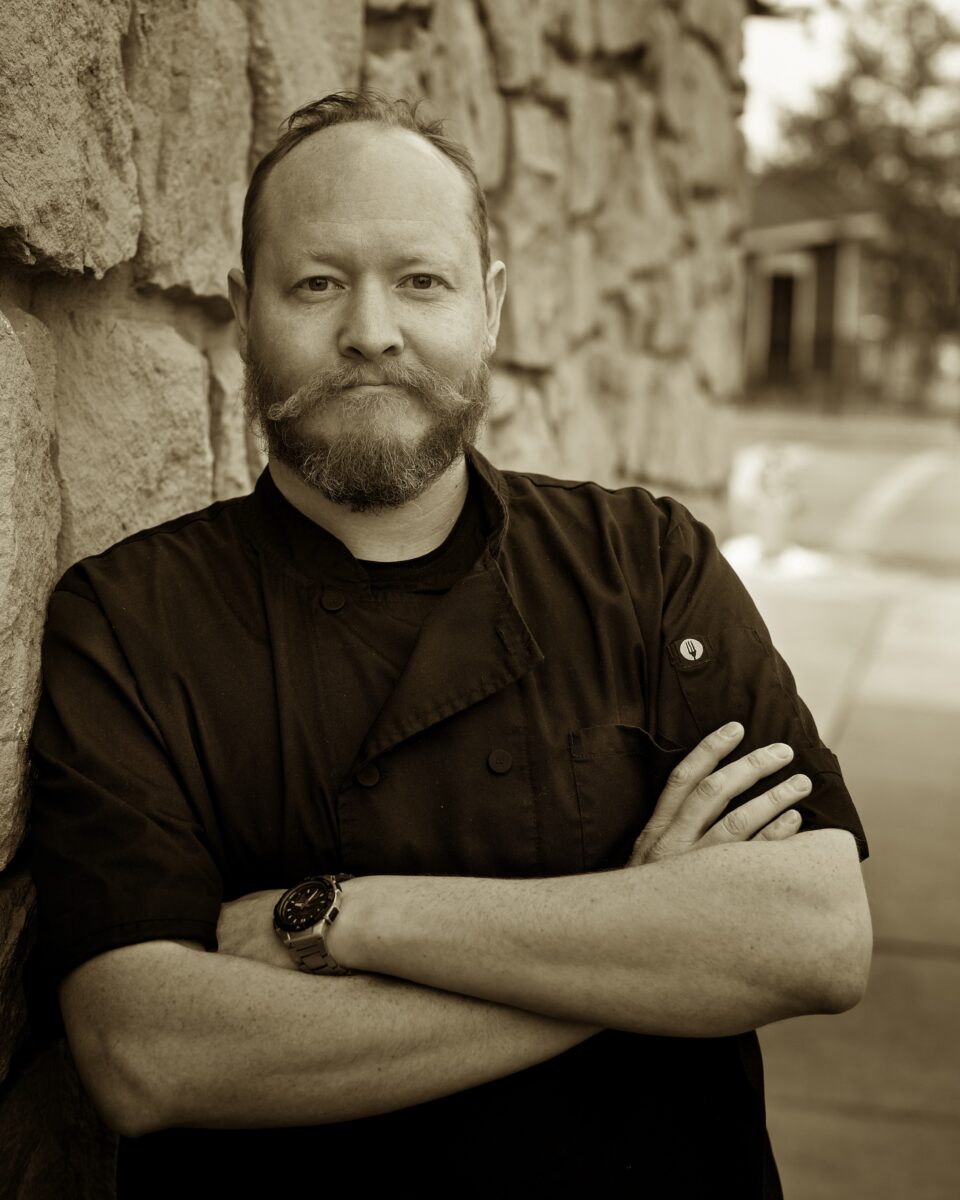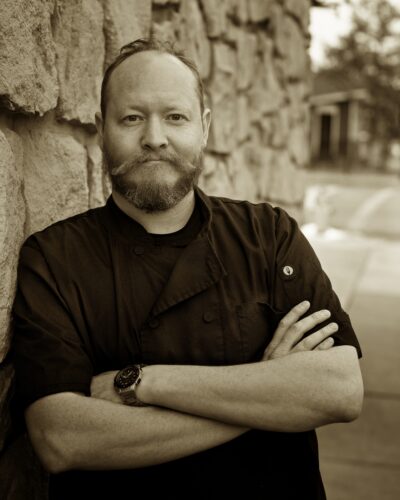 Executive Chef Alex Bean brings his passion for food and cooking from experiences around the country and abroad and from working with talented chefs for 20 years. He enjoys taking classic dishes and making them new. He draws his inspiration from sources both old and new. Chef Alex first started at Bistro Enzo under then Chef James Honaker in 2004. He started as a dishwasher in high school and now is the restaurant's Executive Chef.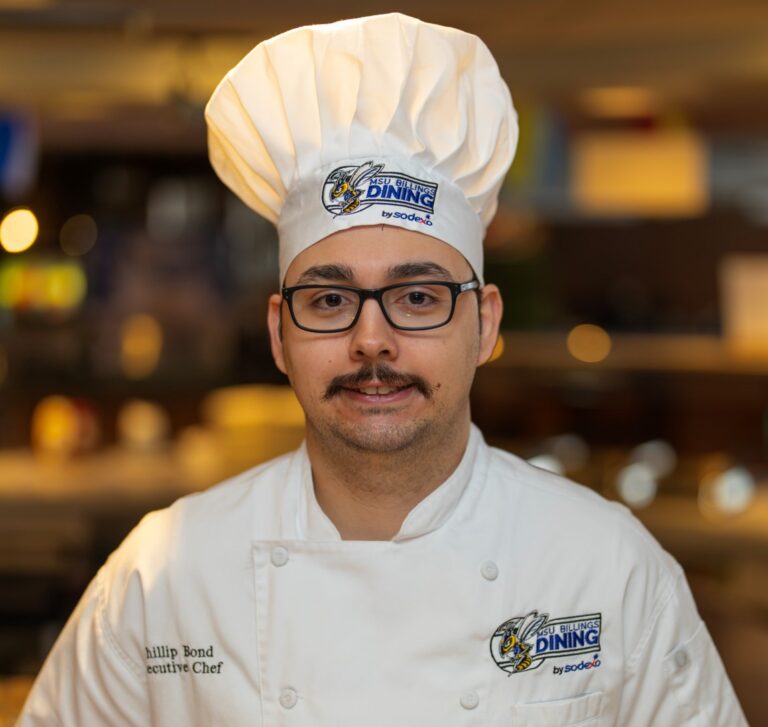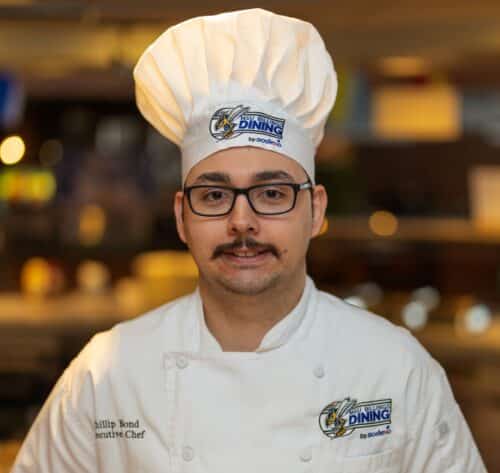 Chef Phillip Bond has always had a passion for food and cooking. From an early age he enjoyed following recipes and making things from scratch and spent a great deal of time in the kitchen with his grandmother learning to cook authentic Mexican food. This love of cooking led him to a career with Sodexo, beginning as a dishwasher in 2014 at Buena Vista University in Storm Lake Iowa. He developed his skills under the guidance of the University General Manager and Operations Manager at Buena, learning how to how to run a kitchen, to efficiently take care of operational duties, execute high level catering events, and how to give the client an experience to remember. In 2020 he accepted the position of Executive Chef at Buena Vista University, where he spent the next two years running residential dining, retail dining, and large catering events.
In 2022 Phillip came to work as the Executive Chef for Sodexo at Montanan State University Billings. In this role he is responsible for residential dining, retail dining, and executing catering events of all sizes.
In his free time, he loves to cook authentic Mexican cuisine and BBQ. He also loves spending time in the great outdoors fishing and hiking.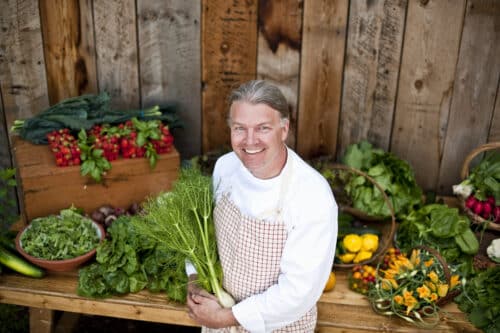 Executive chef Josh Drage joined The Ranch at Rock Creek, Relais & Châteaux in 2009. From his ranch kitchen nestled among 6,600 pristine acres on Rock Creek, Drage welcomes guests to the world's first Forbes Travel Guide Five-Star guest ranch. Drage began cooking at just 12 years old in his mother's kitchen in a small cabin outside of Anchorage, AK. Today he is celebrated for creating unique Montana ranch cuisine. At The Ranch, he focuses on real food from local producers offering organic and sustainable meats and produce. Drage continues to push the envelope with bold flavors and healthy ingredients, taking inspiration from working kitchens in cattle-producing regions around the world. Passionate about cooking food that reflects the spirit and lifestyle of Montana, Drage changes menus on a daily basis to provide guests with unforgettable dining experiences. Ranch life is about adventures in the outdoors, and world travelers delight in cuisine that is nourishing and healthy for active people on a ranch.