Alumna attributes her success in her current role to her education at MSUB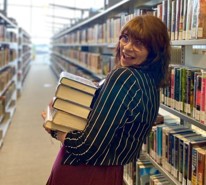 Lena Sleight obtained her bachelor's degree in English from MSU Billings in 2016. She began her career in 2017 at the Billings Public Library (BPL) as Library Services Specialist. She's had the opportunities to participate in numerous event planning committees and "extracurricular" projects.
Sleight acknowledges that her skillset learned while going to college helps her in all she does. Recently, she created three biographical series on historical figures for BPL's social media platforms. Her inaugural series was in conjunction with a traveling exhibit the library hosted near the end of 2022, "Americans and the Holocaust." Months prior to its launch date, a committee was formed to plan correlating programs. In addition to playing a prominent role in planning the exhibit's opening reception, Sleight felt inspired to create "Survivors Who Influenced," a five-part biographical social media series highlighting Holocaust survivors who not only endured their trials but channeled that endurance into making the world a better place. This series ran weekly throughout the duration of the exhibit, and was not only fulfilling for her personally, but was met with positive feedback from BPL's online community and aided in the promotion of the exhibit.
A few months after this series ended, Sleight decided to create more under a similar format. Since "Survivors Who Influenced," two more original series have gone live in 2023: "Champions for Civil Rights" for Black History Month and "Hear Them Roar" for Women's History Month. These, too, were well-received online, so there will undoubtedly be more series to come!
Sleight cannot adequately express the gratitude she feels for the colleagues, superiors, and loved ones who have helped and encouraged her along the way. None of these series (or the growth and experience she's gained as a writer along the way) would have been possible without them.
A sample from "Hear Them Roar," her latest series, can be seen below. The rest of which, as well as all entries for "Survivors Who Influenced" and "Champions for Civil Rights," can be found on Billings Public Library's Instagram and Facebook pages. Additionally, book/movie/television reviews she's contributed to the library's blog, Reader's Corner, from 2017 to present can be found on billingspubliclibrary.blogspot.com.