MSU Billings announces the 2023 Wine & Food Festival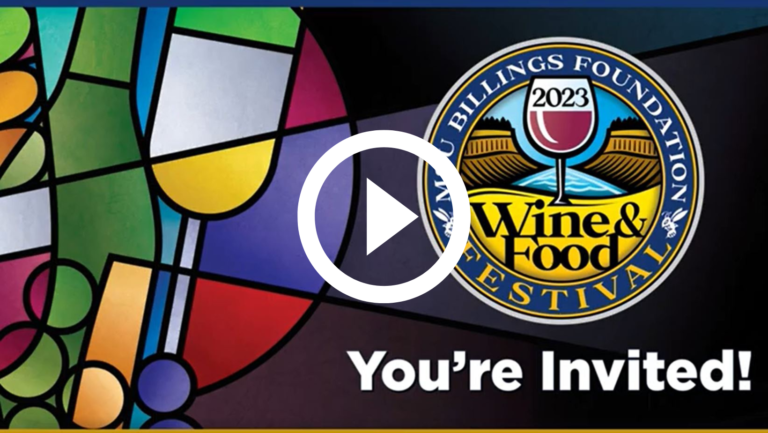 Montana State University Billings students have big dreams. Many also face big obstacles. The MSU Billings Foundation & Alumni works to ensure that the cost of attending college is not one of them. Every year, the Wine & Food Festival raises much-needed funds for scholarships. It has also become the signature event in the region for wine and culinary enthusiasts, requiring not only the creative talents of scores of volunteers but also the financial support of caring friends in our communities.
This year, the Wine and Food Festival event lineup takes place May 18-20. It has raised over $7.1 million (net) and engaged thousands of friends with MSU Billings through classes, tastings, dinners, and auctions. But most importantly, this event helps transform students' lives.
Starting on Thursday, May 18, prepare to tempt your taste buds with exquisite wines presented by 2023 Winemasters Jody Bogle of Bogle Family Vineyards in Clarksburg, California, and John Robert Bookwalter of Bookwalter Winery in Richland, Washington, with a pairing menu by Sarah Seltvedt, Executive Chef/Food & Beverage Director at the Northern Hotel.
The fun continues Friday, May 19, as you enjoy wine and food tastings from over 30 craft experts, a silent auction, a private cellar wine raffle, and a wine store. On the final night, Saturday, May 20, relish the casual elegance of a champagne reception, and gourmet dinner prepared by Phillip Bond, Executive Chef at MSU Billings, and Sean Minahan, Sodexo Regional District Chef, and curated live and silent auctions.
"This year's festival has something for everyone–exclusive wine lots, world-class travel, and some of the best food around. Be sure to join us this year as you won't want to miss what we have in store for you," said Kelly Schrock, Director of Special Events at the MSUB Foundation & Alumni.
Tickets go on sale Friday, April 7, at 8 a.m. You can also call 406-657-2244 or stop by 2615 Virginia Lane in Billings, Mon – Fri between 8 a.m. and 5 p.m.
About the MSU Billings Foundation & Alumni:
The Montana State University Billings Foundation is an independent, non-profit organization under Internal Revenue Service code 501(c)(3). Founded in 1968, Montana State University Billings Foundation advances the goals of Montana State University Billings through the solicitation, investment, and stewardship of financial support. The Foundation promotes philanthropy, campus and community partnerships, and educational opportunities.
For more information on the Foundation, visit msubfoundation.com or call 406-657-2244.