Yellowjackets – Love is in the air!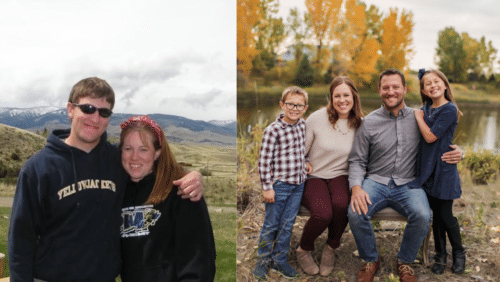 Tim Bauer & Kyla McCamish Bauer met at MSU Billings in 2005. Kyla and Tim were both pursuing a degree in business administration and had both landed in the same Biology class. They also both became work-study students in the Athletic department, were both active in Jacket Ambassadors and Inter-varsity Christian Fellowship, and in 2006, they were both hired to be Resident Assistants in Petro Hall. Kyla managed the 5th floor, the all-girls floor, and Tim managed the 8th floor. Their friendship grew into something more and they were married in July of 2009. They have now been married for almost 14 years and have 2 kids.
***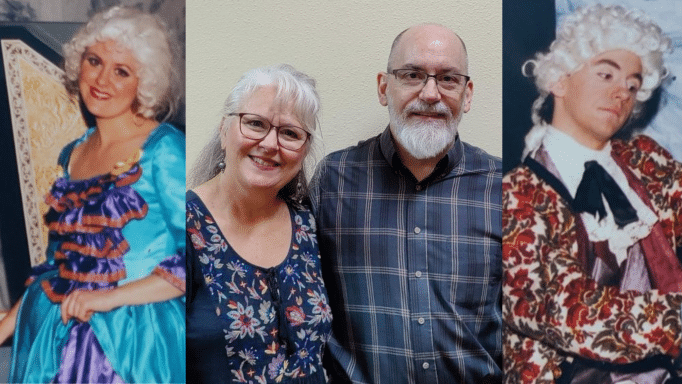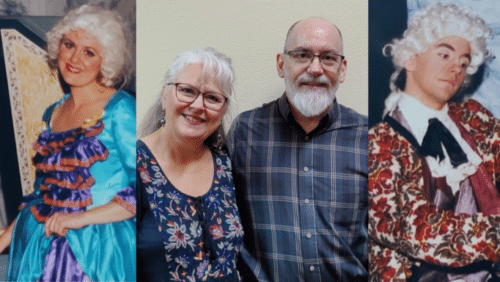 Lana Fox Gribas and John Gribas met through their Fairy Godmother, Vicki Coffman – the Professor of Communication and Arts at Eastern Montana College in the early eighties. Lana and John met during Coffman's acting class while casted as Mozart and Costanza in a production of Amadeus. They were also involved in a cutting from Barefoot in the Park. Lana and John cherish their dating memories on the Eastern Montana College campus – specifically when they were on the top of the LA building.
Lana was involved in theater, art, and music education and has dedicated over twenty years as an art teacher. John serves as an associate dean at Idaho State University after graduating EMC with a degree in art education and communication; as well as, obtaining his doctorate in communication at the University of Kansas.
***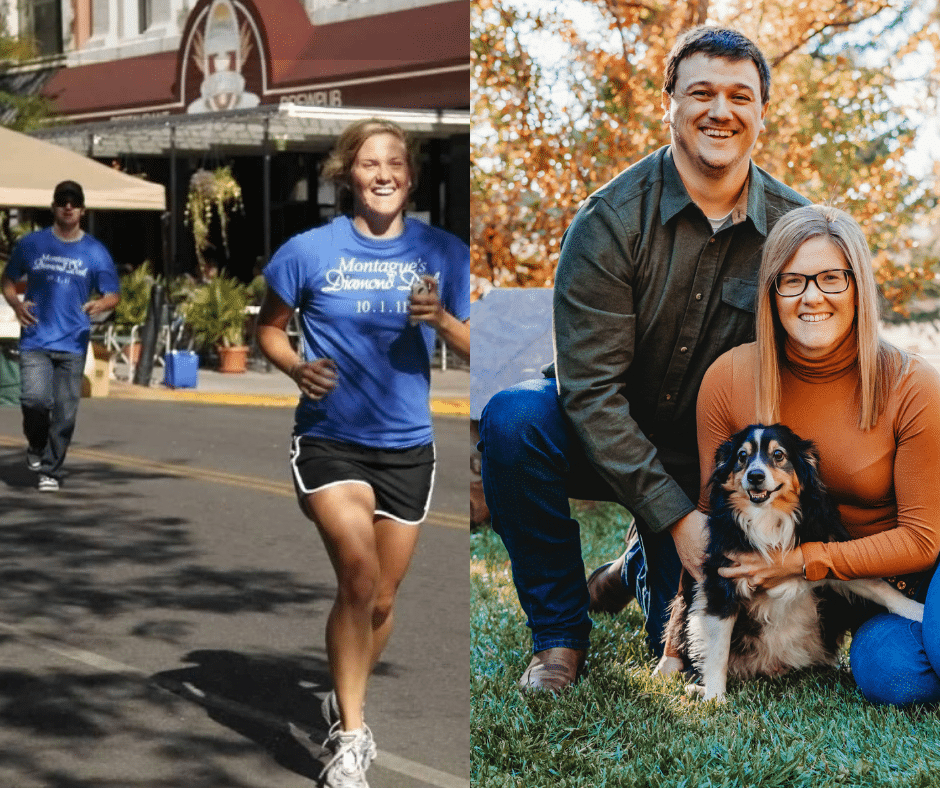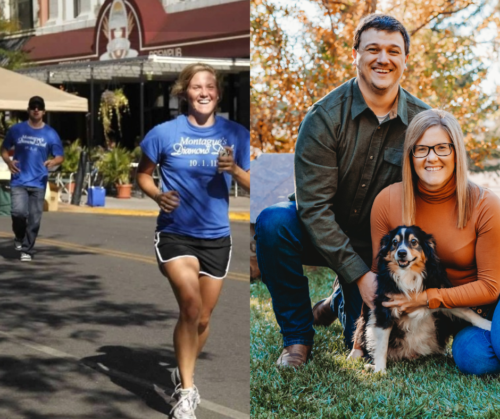 TJ and Justine (Simons) Essex met in fall of 2011. Both attending MSU Billings, they met at Hooligans during Power Hour. TJ was recovering from wisdom teeth removal while Justine was there to have a good time. A week later, they both ended up participating in The Diamond Dash – a competition of duos to win a diamond. The event took place all around downtown Billings. Justine ran from location to location discovering clues; while TJ lagged behind and solved the riddles. Even though their efforts did not result in the winning of the Diamond Dash, they won each other's hearts – dating months after the event.
After both graduating from MSUB, TJ and Justine moved to Cheyenne, Wyoming. They've been married since July 2015 and enjoy board games, traveling, and spending time with family, friends, and mini Australian Shepherd Arlo (Mr. Moo for short).
***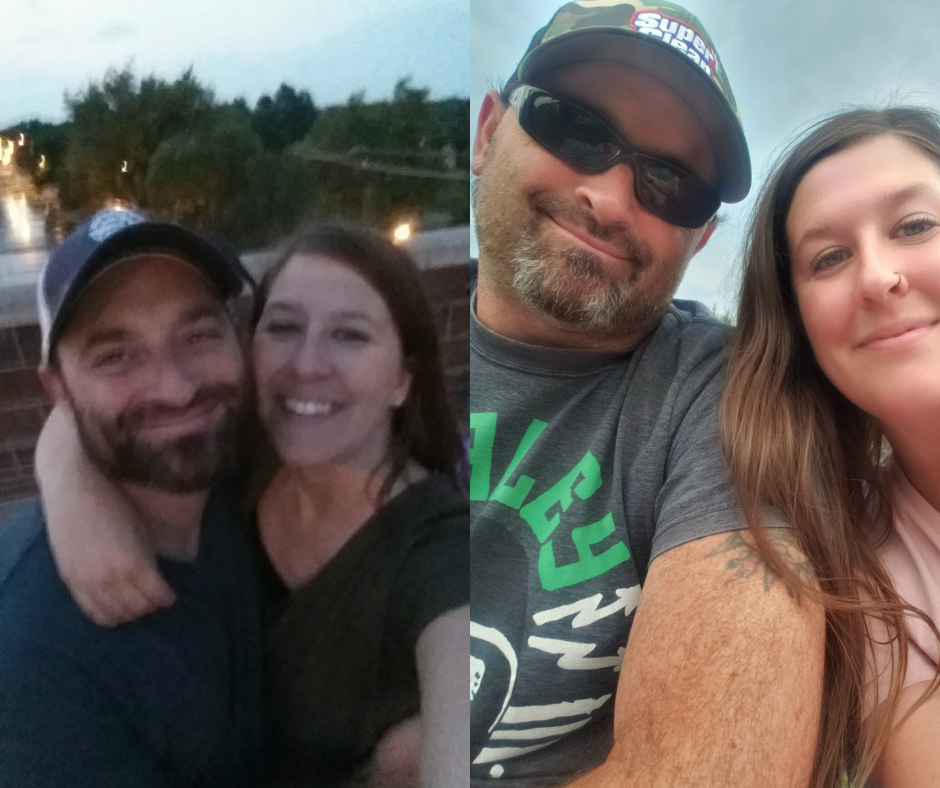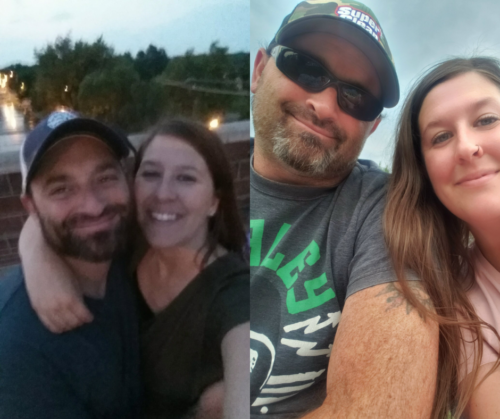 Kristoffer Douglas and Samantha Thatcher both attended MSU Billings. They loved the campus so much they both landed jobs there. Samantha worked at the MSU Billings Library and Kristoffer worked in MSUB's Mail Room. The two met in 2016 at the MSU Billings Library. Kris delivered mail to the library every day. He can be described by many as always being super sweet and friendly. While Sam didn't pay much attention to him, she did notice his crazy and huge sideburns – calling him Wolverine behind his back. While they were aware of each other every day, it wasn't until a fellow coworker of Sam's invited Kris to join them at a local brewery that they actually truly got to know each other. Since that moment, the two have been inseparable and have been together for over six years now.
***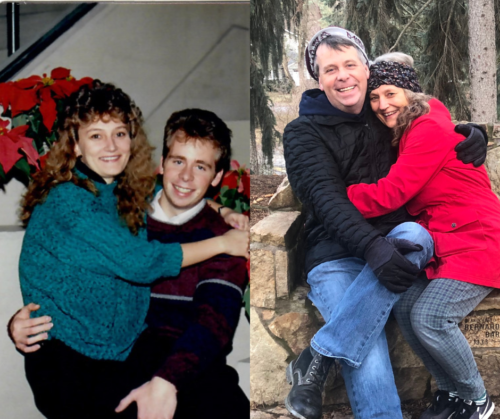 John and Michelle (Mogen) Phelan met in the spring of 1985 at Resident Assistant Spring Training! They started dating that fall and were both resident assistants from fall of 1985 until spring of 1987. The Phelans spent their first year of marriage in Absaruke Hall where John was the Residence Hall Director for the 1987-88 school year. They have been happily married for 35 years!
***