Yellowjacket Athletic Association announces $25k gift from Scheels
MSU BILLINGS FOUNDATION NEWS— The Yellowjacket Athletic Association announced on Wednesday, May 4, 2022, a $25,000 gift from Billings Scheels to support the completion of the Yellowjacket Men's and Women's Golf Team Room. This gift is the largest single gift in golf program history.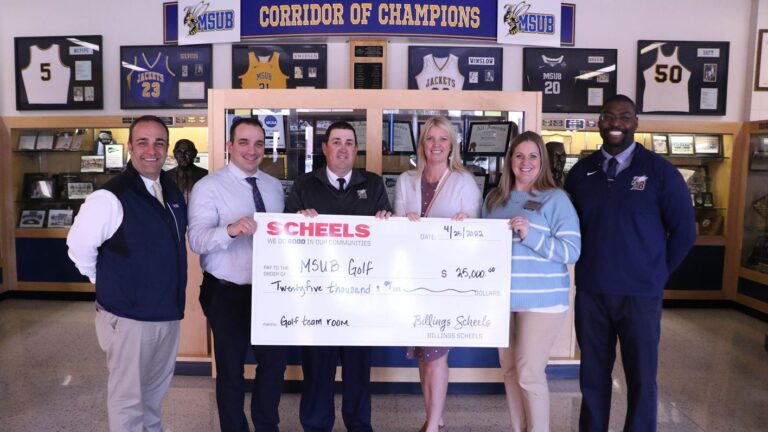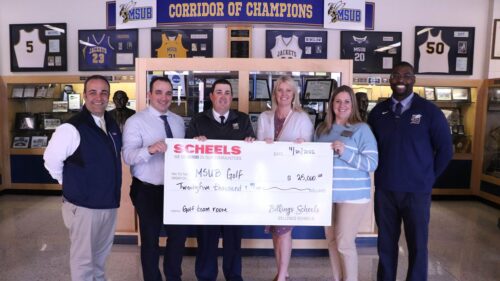 "This is a big day for our programs," said current Yellowjacket Golf Head Coach Adam Buie. "This money will help us build a premier indoor facility where we can practice on campus and indoors regardless of the weather and is a game-changer for recruiting. We cannot thank Billings Scheels enough for their generosity."
The idea of an indoor golf facility campaign was first formulated and launched by the Yellowjacket Athletic Association and former head coach and program alumnus Jeff Allen during the 2020-21 academic year. Allen's goal was to provide the program with a top-tier asset in an indoor facility to attract quality golf talent to Billings to offset the obvious challenges the weather in Montana can present.
The money raised will help continue the transformation of a limited use racquetball court in the Physical Education Building into a full-time practice facility capable of being used by the 20-plus Yellowjacket golfers during the winter months. Phase One, completed last year, paid for custom cut synthetic turf to be laid down on the court floor to create three putting holes and two spaces for players to hit balls into a practice net.
The next phase of the "Drive for the Hive" project will allow for purchasing an industry-standard indoor swing monitor and hitting cage to enable student-athletes to play 18 holes virtually from the confines of campus. Other physical improvements to the space include a door conversion and branding the area to promote the golf program.
"This is a great day for the men's and women's golf programs, athletics department, and institution as a whole," said MSUB director of athletics Michael Bazemore. "We would like to thank Pete Philippi and the entire Scheels team for their investment and commitment to our student-athletes – they are a true community partner. I'd also like to thank everyone that has had a hand in making this project become a reality."
"We are fortunate to have such incredible community partners and supporters such as Scheels who give back to the community in ways that support our student-athletes and their success," said MSUB chancellor Stefani Hicswa. "We look forward to growing our relationship with Pete Philippi and the Scheels team."
Yellowjacket Golf concluded the 2021-22 season at the Great Northwest Athletic Conference Championships in Coeur d'Alene at the Coeur d'Alene Resort. Both teams feature a solid returning group of players for the 2022-23 academic year (graduating only six from 20+ combined in both programs). The women's golf program is one of three NCAA programs in the state, and the men's is the only NCAA program in Montana.
As with every capital project (large or small), there are always necessary additions or unforeseen expenses that impact the project's bottom-line budget. If you would like to donate the "Drive for the Hive – Golf Team Room," CLICK here or contact Yellowjacket Athletics Senior Development Officer Nick Schmidt at nick.schmidt@msubfoundation.com OR 406-657-2253.