Meet our Executive Chef: Andy Fulton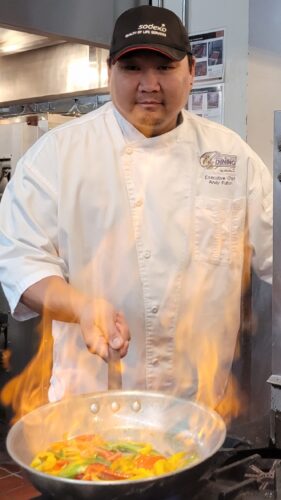 This master chef came to us from Powell, Wyo. Andy Fulton studied Art, Communication, and Psychology at Northwest College. Following his passion for food, Fulton moved to Billings, Mont., where he attended the Billings Vocational Technical Center, receiving his certification in Culinary Arts.
Equipped with his culinary skills, Fulton sought to perfect his craft in the kitchen. He would soon move to Colorado, where he worked in a 4-star Italian restaurant family-owned since 1942. While there, Fulton wore several hats, quickly expanding his talents to become one of the restaurant's top chefs, butcher, baker, pasta maker, and even a brewer for their homemade apple cider company. All the hard work paid off, and Fulton was promoted to a management role.
Not fully satisfied, Fulton decided to follow his dream of owning a restaurant and jumped at the first opportunity he had at the Powell Golf Course. Armed with plenty of family support, Fulton quickly accepted the chance of a lifetime. Fulton worked hard in his restaurant for five long years, pouring out everything he had into it. Unfortunately, market conditions weren't right, so Fulton decided to close the restaurant's doors.
Amid a crossroads, Fulton decided to return to Billings to pursue a bachelor's degree in Psychology. While studying at MSU Billings, Fulton also worked as a Kitchen Coordinator at Passages assisting with the Culinary Arts Program, teaching inmates at the Montana Women's Prison creative culinary skills that would allow them to reintegrate back into society. This experience reignited Fulton's passion for cooking. His hunger and appetite for the art of cooking opened many doors of opportunities for him, allowing him to master his craft at several eateries as both a sous chef and executive chef.
This MSU Billings alumnus and Sodexo Executive Chef has also worked at Briarwood Country Club, Yellowstone Country Club, and executive chef at Hilands Golf Club. His knowledge and experience span across borders, making Fulton one of Billings' most culturally diverse chefs in the industry.
Fulton is always looking for a challenge to experiment with different cuisines. His love and passion for the art of cooking led to his current position as Executive Chef at MSU Billings, where he has been since 2019. Not only does he manage the day-to-day operation of the main café on campus, but he also oversees three retail shops, concessions, and catering events like the Wine & Food Festival. Fulton said his greatest aspiration now is to use his knowledge to better serve the students at MSUB by giving them a one-of-a-kind dining experience.