2019 MSUB Foundation Wine & Food Festival Links:
2019 Wine & Food Festival Photo Gallery
---
Welcome From the Festival Co-Chairs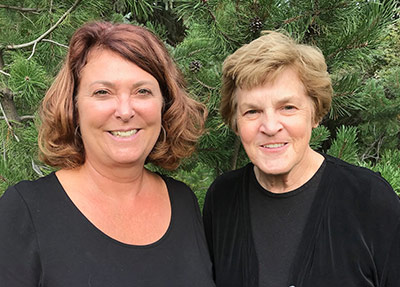 Stacey Suydam
Stacey Suydam's involvement with MSU Billings began many years ago in the College of Business. Stacey served as an Assistant and Associate Professor in Finance from 1992 to 1998. Although Stacey was no longer teaching at MSU Billings, she continued her support of MSUB students by attending Wine & Food Festival events and sponsoring annual events since 2001. In 2013, Stacey began volunteering for the home cooking schools, as well as taking on the extra responsibilities of a class liaison. Stacey has been a member of the Steering, Sponsorship and Live Auction Committees since 2016. This is Stacey's second year as festival co-chair and she welcomes Norma Cleveland as her co-chair for the 2019 festival.
Norma Cleveland
Norma started her involvement with MSU Billings as a student, earning both a Bachelor of Science in Business Education and a Master's of Health Administration. In 1996, Norma joined the MSU Billings Alumni Association Board of Directors, served as President in 2001-2002 and completed her service in 2004. In 2006, the MSU Billings Alumni Association presented her with the J. Cody Montalban Award for Outstanding Service. Norma began a long-serving commitment to the Wine & Food Festival in 2002 and has continued her service since working on the Pre-Events, Registration and Welcome, Celebration Party and Steering Committees. Norma joins Stacey Suydam as co-chair of Wine & Food Festival 2019.