Meet Golden Graduate Clark Swan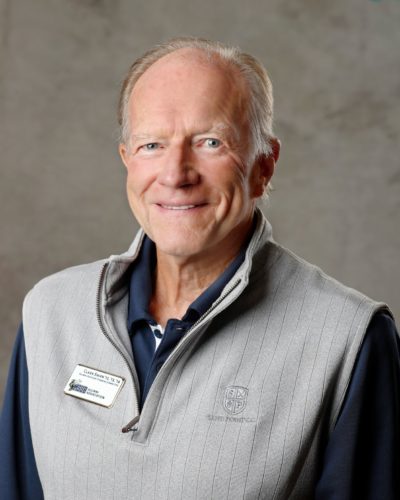 When Clark Swan was asked what advice he had for current and future students, his advice was simple.
"No matter what, never, ever give up on yourself and the wonderful people in your support group. And never quit learning—especially with what your kids and grandkids can offer."
Swan took his own advice and never, ever gave up on his college dreams.
After high school, Eastern Montana College beckoned, and he enrolled in 1967. He joined the football team and had the honor of playing with some EMC/MSUB legends. He also found a home on the golf team and played two years of golf for EMC.
However, inside the classroom, his first attempt at higher education did not go exactly as planned. "I was an uninspired academic back then—the Dewey Decimal System was too time consuming," he jokes.
Swan ended his college career early in 1970, about 33 credits shy of a History degree.
As they say, when one door closes another opens. Swan met his best friend and wife, Sharon, as a freshman at EMC in Coach Shaw's gymnastics class and they were inseparable ever since. Clark and Sharon were married in 1970.
"We began our family and our odyssey of moving around the country to Colorado, New Jersey, Washington, and finally coming home to Montana."
The connection to EMC/MSUB remained years later as he kept stats for men's basketball for 15 years. That led to four years in Spokane and the opportunity to keep stats for the Gonzaga Bulldogs. It was always easy to come back to MSUB's campus for whatever event, concerts, speakers, and thankfully-eventually re-enrolling and having all his credits transfer seamlessly.
In 2011, he felt the calling to finish what he started in '67 and came back to Eastern Montana College, now Montana State University Billings.
"It was really my dedication and honor to Sharon for why I returned to school—she was my rock—and in the 15 years of her struggles, she taught me to never give up—she fought to the very end. She was such a wonderful example for our children and grandchildren."
Swan honored Sharon's memory and completed the journey he started all those years ago, graduating from MSUB in 2014.
He credits his success to his professors who, "pushed and pulled me through a BA in History." He also went on to earn a master's in public Relations and M.Ed. in Educational Technology.
Swan took full advantage at his second chance at higher education. He found he still had one year left of eligibility to compete as an NCAA student athlete.
"Krista Montague, then Athletic Compliance Director, approached the NCAA and determined I had eligibility."
So, Swan decide to return to the golf team for the 2011-12 season. During his senior year, at the age of 63, he was believed to be the oldest student-athlete in NCAA history.
"I walked on the golf team in 2011 and played an extra three semesters at age 62 and 63. It was very fun and an absolute honor to play with a great bunch of kids!". Swan treasured 45 happy years of marriage with his wife Sharon, before she passed away in 2016. "She was my best friend and mentor—a wonderful mother and grandmother."
He and Sharon had 3 beautiful children and Swan now boasts being a grandfather to six grandchildren. He is also a newly minted great grandfather with the addition of his great granddaughter.
Swan is an avid cyclist and he dreams of riding the 2,700-mile Continental Divide Trail from Banff, Canada to Antelope Wells, NM. Swan still holds on to his football roots and says he is "An insufferable Broncos fan since 1960." He can also be found road tripping through rural Montana and the Rocky Mountain West, or out on the links polishing his golf skills.
Clark Swan's story is a testament to dedication and proves it is never too late for a second chance at higher education. His favorite quote from Marcus Aurelius illustrates this perfectly, "You have power over your mind – not outside events. Realize this, and you will find strength." Even though his first attempt at college didn't go as planned, he found his strength and completed college—a journey 47 years in the making.
However, Swan isn't too sure the Golden Grad honor is quite right for him. He prefers, "A Golden Grad flunk-out with a second chance!"