A letter from the President: Chancellor Edelman to leave MSUB
Dear Foundation Friends and Alumni,
Thank you for your support and contributions to MSU Billings, its students, and the MSU Billings Foundation. During uncertain times, you have shown your commitment to the students of MSU Billings.
As a member of the Yellowjacket family, we bring you sad news that Chancellor Dan Edelman is resigning due to health-related reasons effective Aug. 4, 2020. While MSU Billings is once again in the midst of leadership change, MSU Billings Foundation is unwavering in its focus of supporting students, our university, and you.
While we cannot control the storms around us during these unprecedented times, we navigate through these challenges with an eye towards the horizon. For over 50 years, we have faithfully stewarded your gifts and investments, and we will continue to serve you for the next 50 years and more. MSUB Foundation continues to grow by increasing endowment assets, scholarship offerings, and university program assistance.
It is because of you we can serve MSUB, its students, and you. Together, we stand as the Yellowjacket family!
In appreciation,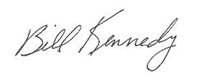 Bill Kennedy
President & CEO