Three MSU Billings alumni sworn into Billings Police Department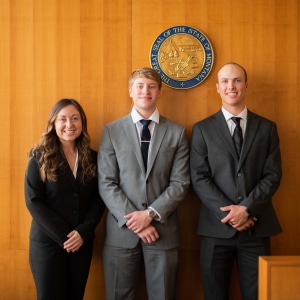 MSU BILLINGS NEWS—Montana State University Billings criminal justice alumni Madison Larchick, Devin Proudfit, and Justin Hanes were sworn into the Billings Police Department last September. Prior to becoming officers, the three alumni completed academic internships with the Billings Police Department.
All three were former students of MSU Billings, with Hanes and Larchick graduating in May of 2022. Proudfit finished his education with Western Oregon University after attending MSUB.
Hanes filed warrants, created matrices documenting recidivism rates, attended a K9 training, and assisted clerks during his internship. Larchick and Proudfit scored violent offenders using matrices and created profiles for the BPD tactical team. In addition, all three participated in ride alongs to see what a normal day is like for an officer.
Larchick, Proudfit, and Hanes had goals to become officers when they began pursuing their degrees and their internships allowed them to learn about the department, City of Billings, and what a day in the life of an officer is like. "My internship was a really good experience," notes Larchick. "Everyone we interacted with was welcoming and answered all of our questions." Proudfit echoed that the three enjoyed their internships with the BPD for that reason, but also noted "it allowed us to get a glimpse inside our future careers."
The three alumni recommend any students considering a career choice in law enforcement or otherwise to take part in an internship opportunity. Hanes adds, "Internships allow students to experience their career before fully committing. Opportunities like these help students make the right decision before entering their future careers."
The BPD and MSUB have had a strong intern partnership over the last several years. "This partnership has allowed for many of our students to receive hands-on opportunities to explore careers in the field," says Juanita Hooper, career specialist in MSUB's Career & Employment Services Department. "Academic internships help prepare students for their future careers and can lead to employment opportunities, often at their internship sites."
Learn more about Career & Employment Services.
###