Eight leaders to receive MSU Billings Foundation & Alumni Association Outstanding Alumni Awards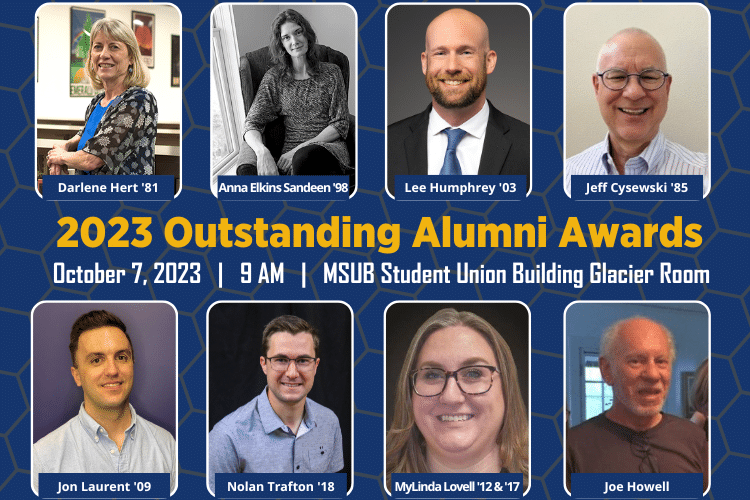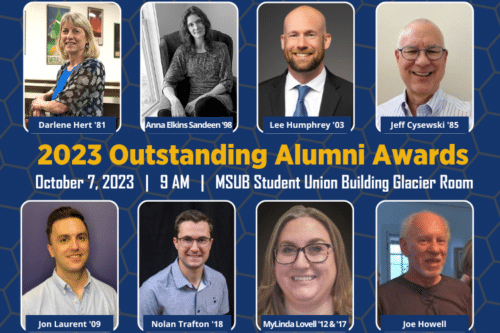 MSU BILLINGS FOUNDATION & ALUMNI NEWS—The MSU Billings Foundation & Alumni Association is pleased to announce the 2023 Outstanding Alumni Award winners. Eight award winners will be recognized in five categories this year.
The 2023 Outstanding Alumni Awards descriptions and winners are as follows:
Distinguished Alumni: Honors alumni who have distinguished themselves through personal, professional, and civic contributions, while bringing a sense of honor, pride, and recognition to the university community.
Lee Humphrey, class of '03
Lee Humphrey has had many accomplishments since graduating from Montana State University Billings in 2003. He currently works for Edward Jones as a financial advisor where he has been for the past 19 years. He achieved a master's degree in Personal Financial Planning, and holds seven advanced designations, including his Certified Financial Planner designation. He dedicates his time and energy to help individuals understand how best to invest what they have to reach their long-term goals. Humphrey served as President on the Historic Billings Depot board, was the President of the MSU Billings Alumni Association Board, and was President of the Billings Downtown Rotary Club. He also served as President of Premier Professional's Network where he actively mentored college students and spoke in classes for both MSUB and Rocky Mountain College. Within the Billings Chamber of Commerce, he served on the Steering Committee for Billings NextGEN when it was created, is currently a Billings Chamber Ambassador, a Trails Committee Member, past Collaborate Member, and past Connections Member. He has been acknowledged by Billings Gazette/Billings Business Journal as a Forty Under 40 recipient and received the Billings Chamber of Commerce Roche Jaune Awards for Business Excellence. He has been actively and passionately involved in supporting and serving countless Billings area nonprofits, including MSU Billings.
Anna Elkins Sandeen, class of '98
Anna Elkins graduated from MSU Billings in 1998 with a double major in English and art, and her life's work has continued in those fields. She went on to earn a graduate degree in poetry, followed by a Fulbright Fellowship to write art-inspired poems in Germany. She spent many years editing, ghostwriting, and painting—and many years teaching. As an instructor, she taught at a high school in the Northern Mariana Islands, at a university in California, and then created and taught her own art-and-writing workshops around the world. For seven years, she helped run Deep Travel, bringing participants to several continents to connect with and write about places and people. That is one of the through-lines in her life and work: to move toward greater connection among cultures near and far. She has received many prestigious awards for her writing, including Literary Arts' 2021 Oregon Book Award for her poetry collection, Hope of Stones. From the individual to the international, Anna demonstrates what MSU Billings students can do.
Recognition for Exceptional Achievement: Recognizes the accomplishments of alumni who have demonstrated exceptional achievement in their chosen professions, made positive impacts on their communities, and are involved with MSU Billings.
Jeff Cysewski, class of '85
Jeff Cysewski provides community input and commentary to the Kirkland City Council and local state representatives. His senior board leadership work with Freedom Foundation is focused on promoting accountable government, individual liberty, and governmental transparency. His weekly work with a college-age young adult group is focused on mentorship, personal development, and understanding modern Christian view response and love of others. As Founder & CEO of SupportMed, Jeff disrupted the national medical billing marketplace by building a start-up into a nationally recognized high-quality service partner in anesthesia practice and revenue cycle management. Jeff's client-service approach, philosophy, and highly trained personnel improved the professional livelihood and financial success of thousands of physicians in the practice of anesthesiology. Jeff is known and respected in the anesthesia physician community as a trusted business-advisor and passionate champion of well-structured and effective group practice models and support infrastructure. Until his retirement and sale of his company, Jeff served on over 25 anesthesia-group boards and was a vital thought-partner with his clients. Jeff is a member of the MSUB College of Business Advisory Council and is an active participant and creative thought leader. He is a financial supporter of the College of Business and is currently engaging the Advisory Council on how it can further improve its overall contribution, focus, and mission.
Jon Laurent, class of '09
Jon Laurent graduated from Montana State University Billings in 2009 with a B.S in Biology. He went on to pursue a Ph.D. in Molecular Biology from the University of Texas (Austin) and post-doctoral research at New York University Langone Health. While there, the COVID pandemic hit NYC especially hard, and Jon co-founded Pandemic Response Labs (PRL) to address the need for large-scale COVID testing in the city and beyond. PRL ultimately performed the majority of COVID testing in NYC as well as expanding to two additional labs across the country. PRL was also responsible for initial identification of multiple COVID variants in NY, including Omicron and Delta. Jon is currently building a new startup in the biotech space.
Rising Star: Honors alumni that have demonstrated increased career responsibility, community involvement, and/or campus contribution.
MyLinda Lovell, class of '12 & '17
MyLinda Lovell came to MSUB as a non-traditional student. She encourages people to take advantage of local educational opportunities. MyLinda has volunteered for the MSUB Science Expo as judge where she has been able to talk to young adults about their mutual love of science. During her tenure at MSUB she served as the Science Club president and assisted with the chemistry magic shows as well as Girls-In-Science. MyLinda has been able to host students for job shadowing and do presentations about her MSUB experience in becoming an MLS during career fairs.
MyLinda joined St John's United to stand up a high complexity laboratory to assist with Covid-19 molecular testing during the height of the Covid-19 pandemic. She worked tirelessly to ensure timely test results so the community could feel a semblance of safety. Even with a full plate MyLinda manages to find the time to be a hospice volunteer. She spearheaded a project to grow peace lilies for the families of mourning hospice families. MyLinda has been recognized for her laboratory skills in Yellowstone Valley Women's magazine and Billings Gazette Top 40 Under Forty 2023. Though Covid-19 testing for SD2 has subsided, MyLinda and her team continues to remain dedicated to resident safety at SJU. MyLinda is currently distinguishing her role in the community by extending her expertise in developing a high complexity laboratory for the Billings Urban Indian Health and Wellness Center.
Nolan Trafton, class of '18
Nolan Trafton graduated from MSU Billings in 2018 and pursued a career in teaching for Billings Catholic Schools. As a teacher and soccer coach for Billings Catholic Schools, Nolan goes out of his way to reach his students and athletes through coaching travel and YSA soccer. As head coach for both Billings Central Catholic High School soccer teams, he has led the girls team to runner-up or championship win within the last several years and has lead the boys team to the playoffs this past year in 2022. On top of being a state championship soccer coach, the United Soccer Coaches awarded Nolan, Montana Coach of the Year in 2021. In 2022, The Montana Coaches Association selected Nolan as the Girls Soccer Coach of the Year.
This past year, Billings Catholic Schools awarded Nolan the Outstanding Young Alumni award and Nolan has been recently named the newest Principal of Billings Central Catholic High School at the age of 27.
Ronald P. Sexton Award for Professional Commitment: Honors alumni who dedicate their professional lives as employees of MSU Billings. This award is given to an alumnus or alumna who has dedicated 10 or more total years of his or her career to MSU Billings and has significantly contributed to the advancement of the university. Recipients of this award will have emulated Chancellor Sexton's passionate commitment to access, excellence, and student success.
Darlene Hert, class of '81
Darlene Hert was a student worker for the library during her time at MSU Billings and after graduating in 1981, she began her career as a classified staff member working in technical processing. As a classified staff member, she worked with Staff Senate and was awarded the 2003 MSUB Outstanding Staff Award. She became the library director in 2016 and has promoted the advancement of MSU Billings by providing the annual Library Lecture Series, and other various partnerships to enhance the Billings community. Hert has served on many library communities such as Montana Library Association, the Pacific Northwest Library Association, and the Treasure State Academic Information and Library Services (TRAILS) Consortium committees, and currently is the secretary of the TRAILS General Council and co-chair of the TRAILS Professional Development Committee.
Darlene's love and commitment to MSUB over the years has been clear. Including her years as a student worker, Hert has been with the library at MSU Billings for 41 years, recently retiring in December of 2022. Her time at MSU Billings showed her institutional knowledge in invaluable and always had an eye for the future of MSUB and MSUB Library.
Friend of MSU Billings: Honors a non-alumnus/a who has clearly demonstrated commitment to MSU Billings through distinguished service and/or leadership, while influencing the growth and improvement of MSUB and inspiring others to support the university.
Joseph Howell
Joe Howell has been associated with MSU Billings for over 43 years, including his tenure, where he served as an Assistant, Associate, and a Full Professor. Dr. Howell served his department as Chair for fourteen years and the College of Arts and Sciences as Interim Dean for two years. Throughout his career he has taught approximately ten different rigorous courses in Mathematics and Statistics at MSUB.
He has served the University through his participation on ten departmental and university committees including: Member and Chair of the Board of Directors of ASMSUB Day School, Member of the Montana University System Core Curriculum Committee, President of the Faculty Association Committee and Organizer and local sponsor of MATHCOUNTS Contest.
Joe's involvement with the Wine & Food Festival has been impactful for the last 30 years. He has served as a co-chair for the 2006 and 2007 Wine & Food Festival's, introduced the Wine Master Symposium in 2007, and Live Auction Chair.
One of our current sponsors is NorthWestern Energy. Learn more about becoming a sponsor.
The 2023 Outstanding Alumni Awards will take place on October 7, 2023, at 9:00 am in the MSUB Student Union Building Glacier Room. For more information about the Outstanding Alumni Awards, contact Abby Moerkerke, at (406) 657-2246 or abby.moerkerke@msubfoundation.com.