Join a Committee, Task Force, or Alumni Team
Whether you're in Billings or in a faraway city – there's no reason not to get involved with your Alumni Association. You can network, stay informed, build your resume and skills, and form a camaraderie with others who have a connection to your alma mater. All you need is a little time and a lot of enthusiasm! Check out your options: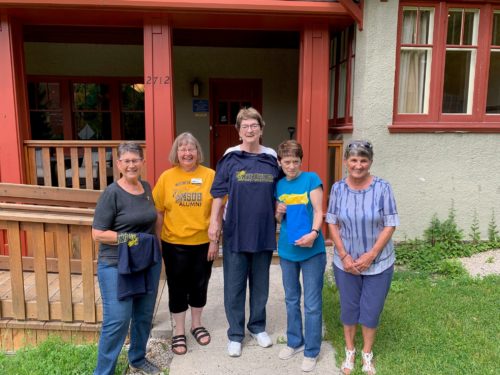 Committees
Committee members work on a variety of projects managed by the Alumni Association. Those involved can expect to serve about two to four hours each month.
Events Committee
Leader: Hannah Olson '16, Billings
Responsible for assisting with the planning and implementation of special events.
Picture yourself… organizing and managing the 2020 MSU Billings alumni car show!
Philanthropy Committee
Leader: Bobby Anner-Hughes '80, Billings
Responsible for exploring and implementing endeavors that generate funds to support the Alumni Association's programs and initiatives.
Picture yourself… increasing the amount of Alumni Association license plates by placing fun promotional cards on windshields – or by coming up with a new and innovative way to market the program!
Outstanding Alumni Awards Committee
Leader: Mandi Graham '12, Billings
Responsible for assisting Alumni Relations staff in developing and implementing an annual Outstanding Alumni Awards program.
Picture yourself… doing everything from helping to select the 2020 award recipients – to driving a golf cart and decorating for the event!
Outreach and Recruitment Committee
Leader: Ashleigh Heimbach '12, Helena
Responsible for connecting with alumni to encourage them to engage in the Alumni Association and planning outreach programs, including alumni team development.
Picture yourself… helping alumni teams form throughout the United States! (Fun fact: So far, every committee member participates remotely! No one currently resides in the Billings area.)
Golden Graduates Committee
Leader: TBD
Responsible for recruiting Golden Graduates and managing the event.
Picture yourself… taking Golden Graduates on a tour throughout campus – or escorting Golden Graduates into the arena at Commencement in 2020!
---

Task Forces
Task Forces emerge as needs arise and serve for a specifically defined period of time. Task force members can expect to serve two to four hours per month within the time period of their task.
Scholarships Task Force
Leader: Amy Bieber '17, Sidney
Responsible for selecting students to receive scholarships from the Alumni Association. Service takes place between February and April.
Picture yourself… logging into a portal to review and score scholarship applicants.
---

Alumni Teams
Alumni Teams emerge when alumni in geographically distinct regions wish to connect through friendship, networking, and service. Don't see a team in your area? No problem! Think about starting one of your own.
Helena Alumni Team
Point of Contact: Ashleigh Heimbach '12, Helena
They formed in August – and they're looking to add to their pack. They hosted a Halloween party in October and often get together to attend Helena-area activities.
Picture yourself… helping recruit students from Helena schools and planning events with your teammates!
New York Metro Area Alumni Team
Point of Contact: Kevin Majewski, Ph.D '07, New Jersey
They formed in November – and they're surveying area alumni to determine what their first event should be! Keep an eye out: Big plans are underway for an event in Spring 2020!
Picture yourself… creating the very first activities for alumni in the New York Metro Area!