Jeanann Lemelin: Excelling On and Off the Court
I chose MSUB because it is the best fit for my academic and athletic career. The campus, professors, and coaches made me feel at home with a welcoming atmosphere.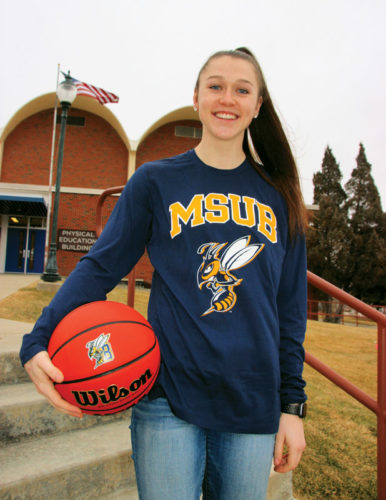 I love building relationships with each of my professors and feel as though they care about the education they are providing. My schedule can be crazy due to basketball, and all of my professors are very flexible and understanding. One of the biggest highlights of my college career was winning the GNAC and Regional tournament and making it to the Elite Eight as a sophomore.
After graduation, I plan on attending graduate school for Speech/Language Pathology. MSUB has prepared me by providing the courses I need to further my education, surrounding me with professors who have enhanced my understanding in the communication and psychology field, and has given me the keys to be successful in any career I choose to pursue.
Being in athletics has taught me how to manage my time as a student-athlete; how to communicate and work well with teammates, coaches, professors, and fellow classmates; and has taught me to work hard both in the classroom and on the court.
Over the past four years, I have been honored for my hard work in the classroom with Academic All-GNAC. I have been selected to be a member of the National Society of Leadership and Success and MSUB's Chi Alpha Sigma.
Thank you to all of the donors who make scholarships available to student-athletes. I am very appreciative for the ones that I have received here at MSUB.
More than a Game
Jeanann chose MSUB because of her coaches and professors. Her attitude and determination are key qualities that Women's Basketball Coach Kevin Wooden seek in a competitor and a person.
Your support of athletics goes to help students just like Jeanann toward their goals. You make scholarships available through your gifts to talented, smart student-athletes. Your gifts ensure the most up-to-date training equipment. It's because of you that Jeanann accomplishes so much on the court, but also in life.
Jeanann and the women's basketball team need your help. The lady 'Jackets locker rooms, in fact all the sports locker rooms, are in need of repair and revamp. As you can imagine, they are heavily used. Will you support Jeanann, her teammates and Yellowjacket athletics with your Jacket Giving day gift to MSUB's locker room project? Find more information on Jacket Giving Day at jacketgivingday.msubillings.edu on 2/20/200 to support your Yellowjackets.