The growing concerns regarding COVID-19 have required that we pause to strategize upcoming events. In an effort to protect Golden Graduates who are especially vulnerable to this illness, we have decided to postpone the 2020 Golden Graduates Alumni Program and invite registrants to return to campus in 2021, instead.
Please join us in celebrating Golden Graduates who earned their degrees in 1950-51, 1960-61, and 1970-71 as they are invited back to their alma mater for an exciting lineup of events on April 30 and May 1, 2021. The Golden Graduates Alumni Program includes lunch with our chancellor, a campus tour, a reception, and more! In addition, Golden Graduates participate in the commencement ceremony donning golden regalia, and receive diploma plaques of their own.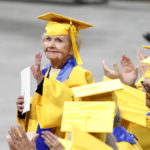 Here is what one 2019 Golden Graduate had to say about her experience in this exciting program:
Meet 2019 Golden Graduate Shirley Gruber
Are you interested in celebrating your lifetime achievements since graduation? We'd love for you to participate in the 2021 program. Or, wait until your Golden Graduates year rolls around.
2021: Classes of 1950-51, 1960-61, 1970-71
2022: Classes of 1952, 1962, 1972
2023: Classes of 1953, 1963, 1973
2024: Classes of 1954, 1964, 1974
2025: Classes of 1955, 1965, 1975
2019 Photo gallery